Derby, Vermont 05829
Derby VT Lodging, Real Estate, Travel & Visitor Information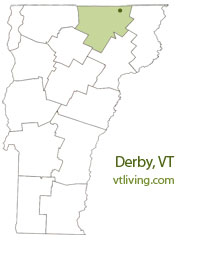 The border town of Derby, Vermont ia a US point of entry with an opera house whose entrance is in the United States and its stage is across the border in Canada. The U.S. Customs office at Derby is open 24 hours, the Eastern Township town of Stanstead, P.Q. borders Derby to the north. The historic and unique Haskell Free Library and Opera House is located here – this building houses a library and hosts live performances – the building is partially located in Quebec and in the United States. It opened on June 7, 1904 and was built on the border between Canada and the United States. The library collection and the opera stage are located in Stanstead, but the library check-out and the opera seats are located in Derby Line. Because of this, the Haskell is sometimes called "the only library in America with no books" and "the only opera house in America with no stage". A thick black line runs beneath the seats of the opera house and diagonally across the centre (or center) of the library's reading room to mark the international boundary. The stage and half of the seats are in Canada, the remainder of the opera hall is in the US. The building was created by American sawmill owner Carlos Haskell and his Canadian wife Martha Stewart Haskell for use by the people of both countries; profits from the opera house were originally intended to support the operation of the free library. The Haskell family donated the building to the towns of Derby Line and Rock Island in Mr. Haskell's memory; it is run by an private international board of four American and three Canadian directors. The library has a collection of more than 20,000 books and is open to the public Friday and Saturday from 10 a.m. to 5 p.m. Registered in the National Register of Historic Places since 1976, this landmark also appeared in Ripley's Believe It or Not.
The town of Derby has several nice lakes; including Lake Derby, and Lake Salem. Villages within Derby include, Derby Line and Derby Center.
To share any Derby, VT information, contact us. Learn more about advertising in VTLiving.
Chartered: 1779
County: Orleans
Derby, VT Population:
2010: 4,604
GPS Coordinates:
Latitude: 44.58
Longitude: -72.8
Derby, VT Local Information
Derby Town Offices: 802-766-4906
inns | hotels | resorts | rentals | attractions | dining | real estate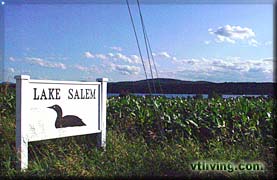 Products | Visit VT Towns | Shopping

New England Living Magazine