Northeast Kingdom Vermont
NEK St. Johnsbury, Burke, Jay Northern VT Living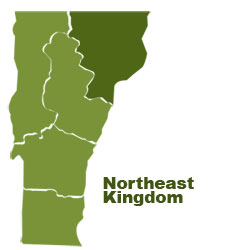 Northeast Vermont or the Northeast Kingdom region of Vermont has long attracted naturalists, artists, writers, and poets drawn to the solitude, slower-pace, and natural beauty. The "Northeast Kingdom of Vermont" is comprised of Caledonia, Orleans, and Essex counties.
The Northeast Kingdom is a four-season vacation destination that offers fishing, skiing, boating, hiking, biking, snowmobiling, golf, birding, and more. There are deep lakes, many ponds, and large farms in the Northeast Kingdom – the most rural of Vermont's five regions.
Welcome to "The Kingdom" as many Vermonters in the area refer to this part of the state. This is the forgotten corner that is known as  "the real Vermont".  Ask us about the Northeast Kingdom, VT visits, or share your Vermont information or comments. To feature your Vermont business, contact us.

inns | hotels | resorts | rentals | attractions | dining | real estate

The Northeast Kingdom is comprised of the three northeasternmost counties in the state: Caledonia, Orleans, and Essex.
---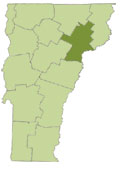 Caledonia County VT
Population: 31,227
County Seat: St. Johnsbury
Towns – Barnet, Burke, Danville, Groton, Hardwick, Kirby, Lyndon, Newark, Peacham, Ryegate, Sheffield, St. Johnsbury, Stannard, Sutton, Walden, Waterford, Wheelock
Villages – West Burke, East Hardwick, Mackville, Lyndonville, Lyndon Center, East Lyndon, South Ryegate, East Ryegate, Ryegate Corner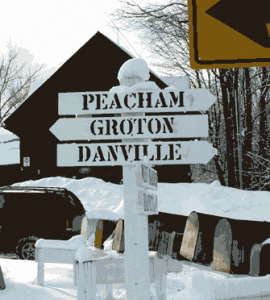 ---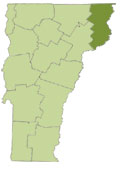 Essex County VT
Population: 6,306
County Seat: Guildhall
Towns – Averill, Bloomfield, Brighton, Brunswick, Canaan, Concord, East Haven, Ferdinand, Granby, Guildhall, Lemington, Lewis, Lunenburg, Maidstone, Norton, Victory
Villages, Grants, Gores – Avery's Gore, Island Pond, Beecher Falls, Warner's Grant, Warren Gore
---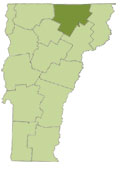 Orleans County VT
Population: 27,231
County Seat: Newport
Towns – Albany, Barton, Brownington, Charleston, Coventry, Craftsbury, Derby, Glover, Greensboro, Holland, Irasburg, Jay, Lowell, Morgan, Newport, Troy, Westfield, Westmore
Villages – Albany Village, Orleans, Beebe Plain, Derby Center, Derby Line, North Troy
---
The specified file on Include Me shortcode does not exist.

Products | Visit VT Towns | Shopping