Southern Vermont
Visiting Brattleboro Bennington Manchester Vermont
Welcome to southern Vermont – The "gateway" to Vermont! It's a region that stretches from the Connecticut River in the east to the beautiful valleys of upstate New York. Southern Vermont is comprised of the towns and cities in Bennington and Windham counties, majestic Mount Equinox and much of the Green Mountain National Forest is located here. The historic towns of Manchester, Arlington, Marlboro, Chester, Sunderland. Southern Vermont is where you'll find the Deerfield Valley, Mount Snow, Stratton, Wilmington, Putney, Dummerston, and culturally hip town of Brattleboro. To feature your business, contact us.

inns | hotels | resorts | rentals | attractions | dining | real estate
---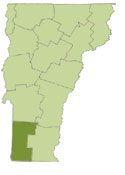 Bennington County VT
Population: 37,125
County Seat(s): Bennington, Manchester
Towns – Arlington, Bennington, Dorset, Glastenbury, Landgrove, Manchester, Peru, Pownal, Readsboro, Rupert, Sandgate, Searsburg, Shaftsbury, Stamford, Sunderland, Winhall, Woodford
Villages – Bondville, North Bennington, Manchester Village, Old Bennington, South Shaftsbury
---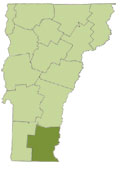 Windham County VT
Population: 44,513
County Seat: Newfane
Towns – Athens, Brattleboro, Brookline, Dover, Dummerston, Grafton, Guilford, Halifax, Jamaica, Londonderry, Marlboro, Newfane, Putney, Rockingham, Somerset, Stratton, Townshend, Vernon, Wardsboro, Westminster, Whitingham, Wilmington, Windham
Villages, Grants, Gores – Algiers, Bellows Falls, Harmonyville, Jacksonville, Newfane Village, North Westminster, Saxtons River, South Windham, West Brattleboro, West Townshend
---
The specified file on Include Me shortcode does not exist.

Products | Visit VT Towns | Shopping