Champlain Valley Vermont
Burlington Middlebury Lake Champlain VT Vacations
Visit the Champlain Valley Region of northwestern Vermont – comprised of Addison, Chittenden, Franklin, and Grand Isle counties. This is the most economically vibrant and fastest growing region of Vermont. The Champlain Valley includes the Islands of Lake Champlain, Burlington, the states largest city. The former IBM, and IDX are located here. Northwestern Vermont is the state's educational center and home of UVM – University of Vermont, Vermont College, Saint Michael's College and Champlain College. Explore Champlain Valley towns, follow the links for Vermont lodging, dining, real estate, photos, relocation and travel information. Ask us about the Champlain Valley or share comments. To feature your business, contact us.

inns | hotels | resorts | rentals | attractions | dining | real estate
---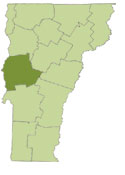 Addison County VT
Population: 36,821
County Seat: Middlebury
Towns – Addison, Bridport, Bristol, Cornwall, Ferrisburg, Goshen, Granville, Hancock, Liecester, Lincoln, Middlebury, Monkton, New Haven, Orwell, Panton, Ripton, Salisbury, Shoreham, Starksboro, Vergennes, Waltham, Weybridge, Whiting
---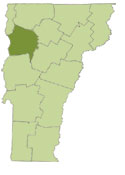 Chittenden County VT
Population: 158,504
County Seat: Burlington
City – Burlington
Towns – Bolton, Charlotte, Colchester, Essex, Hinesburg, Huntington, Jericho, Milton, Richmond, Shelburne, South Burlington, St. George, Underhill, Westford, Williston, Winooski
Villages – Essex Junction
Gores, Grants, Unincorporated Places – Buels Gore
---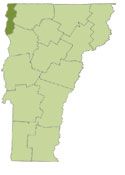 Grand Isle County VT
Population: 6,970
County Seat: North Hero
Towns – Alburgh, Grand Isle, Isle La Motte, North Hero, South Hero
Villages – Alburgh Village
---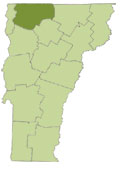 Franklin County VT
Population: 47,746
County Seat: St. Albans
Towns – Bakersfield, Berkshire, Enosburgh, Fairfax, Fairfield, Fletcher, Franklin, Georgia, Highgate, Montgomery, Richford, Sheldon, St. Albans, Swanton
Villages – Enosburgh Falls, Swanton Village
---
The specified file on Include Me shortcode does not exist.

Products | Visit VT Towns | Shopping