Champlain Valley VT Campgrounds

There are beautiful Champlain Valley northwestern Vermont camping sites, RV Parks, and full-service campgrounds near Burlington and Lake Champlain. Vermont Camping season peaks from late June to late September when prime camping and RV sites are in peak demand. For best results arrange for your Champlain Valley Vermont Camp Site in advance. Please share your Vermont campground comments. To feature your Vermont business, contact us.
Champlain Valley Vermont Campgrounds


Lake Champagne Campground, PO Box 250, 53 Lake Champagne Dr., Randolph Center, VT 05061
Centrally located in Vermont, Lake Champagne Campground is the ideal setting to locate and explore Vermont. Featuring a clean and relaxing atmosphore, Lake Champagne Campground, where nature and comfort combine in an idyllic Vermont setting.
Visit Website
---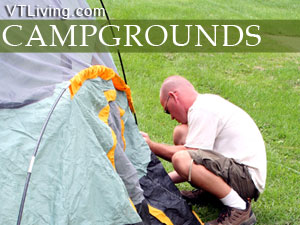 Camp Skyland
398 South Street
South Hero, VT 05486
Ph: 802-372-4200
Carry Bay Cottages
Route 2
North Hero, VT 05474
Ph: 802-372-8233
Green Mountain Family Campground
4817 Rte 116S
Bristol, VT 05443
Ph: 802-453-3123
Goose Point Campground
526 US Route 2 South
Alburg, VT 05440
Ph: 802-796-3711
Hillcrest Campground & Cottages
686 Basin Harbor Road
Ferrisburg, VT 05456
Ph: 802-475-2343
Missing Something? Share your comment or business review
Northwestern Vermont Area National Forest Campgrounds
Breadloaf Wilderness Camp
Breadloaf, VT 05753
No Phone – Largest wilderness area within Green Mountain National Forest – Primitive Camping Only
Bristol Cliffs Wilderness Camp
Bristol, VT 05443
No Phone – Spectacular cliffs and views of Lake Champlain and Adirondack Mountains in Green Mountain National Forest – Primitive Camping Only
Green Mountain National Forest Campgrounds
U.S. Forest Service Office
North Main Street
Rutland, VT 05701
Ph: 802-747-6700
– Rugged exposed heights and secluded hollows in 19 Recreation Areas and 6 Wilderness Areas.
Champlain Valley VT Campground / RV Lodging
Burlington, Middlebury, St. Albans, the Islands of NW Vermont
North Central VT Campground – RV Lodging
Montpelier, Barre, Randolph, Waterbury, Stowe, Mad River Valley
Northeast Kingdom VT Campground – RV Lodging
St. Johnsbury, Newport, Barton, Lyndonville, Burke, Jay, Island Pond
South Central VT Campground -RV Lodging
Rutland, White River Jct., Woodstock, Quechee, Brandon, Killington, Ludlow, Weston, Chester
Southern VT Campground -RV Lodging
Bennington, Brattleboro, Manchester, Arlington, Newfane, Mt. Snow area
Dining | Real Estate | Skiing | Vacation Rentals | Inns | Hotels | Resorts
Classified Ads | Golfing | Events | Attractions | Sports | Personals
Pet Friendly Lodging | Meeting Rooms | Weddings
Products | VT Town Photos | Shopping
CLICK HERE TO SUBSCRIBE



Stay up-to-date on VT happenings

Dining | Real Estate | Skiing | Vacation Rentals | Inns | Hotels | Resorts
Classified Ads | Golfing | Events | Attractions | Sports | Personals
Pet Friendly Lodging | Meeting Rooms | Weddings
Products | VT Town Photos | Shopping
CLICK HERE TO SUBSCRIBE



Stay up-to-date on VT happenings

Search Vermont Living Magazine