Vermont Maple Sugarhouses
Vermont Maple Producers & Maple Sugar Makers

Maple Sugaring time is a very special time in the north country. Sitting around the maple sugar shack and boiling down maple sap is an experience that's unforgettable. The sweet aroma of boiling sap makes the anticipation of the results – real Vermont maple syrup. Find the sweetest Vermont Maple Syrup Producers below. Tell them VT Living sent you.  Ask us about VT Maple Products or share your comments.  To feature your Vermont business, contact us. 


Robb Family Farm, 827 Ames Hill Road, Brattleboro, VT 05301
Home of fine Vermont crafts. We produce the purest maple syrup you can find as well as a large assortment of fine hand-crafted treasures. Enjoy the scenic Vermont landscape from the bac of a horse-drawn wagon or sleigh. The country Shop is a family run business, consisting of a charming gift shop, farm events, mail order and baked goods by order. The shop is open throughout the year from it's annual Valentine Sweetheart Hayride until Christmas.
Visit Robb Family Farm Website
---

Green Mountain Sugar House, Rte 100N, Box 820, Ludlow, Vermont 05149
Our award winning maple candy is still being made and shipped daily along with our 100 % pure maple syrup. When you see the steam roll from the Green Mountain Sugar House, stop in and have a taste of the sweetest stuff on earth. Our red roofed sugar house, just steps away from the water's edge, is where we make everything from maple syrup to mouth-watering maple fudge. It's also a Vermont country gift shop. Make the Green Mountain Sugar House a planned stop whenever you're in the area... you'll be glad you did! Order online
Visit Green Mountain Sugar House Website
---

Sugarbush Farm, 591 Sugarbush Farm Road, Woodstock, VT 05091
Sugarbush Farm is located on a 550 acre hilltop outside of Woodstock Village. Visitors watch cheese production, year round maple tours, sample Sugarbush Farm cheeses and other Vermont products, including; Maple Products and Honey. You can walk the nature trail, see farm animals, and best of all free admission. The farm is located 3 miles off US Route 4 on Hillside Road, across from the Taftsville Bridge, 3 miles east of Woodstock. The Farm Store is open daily from 9:00am to 5:00pm.
Visit Sugarbush Farm Website
---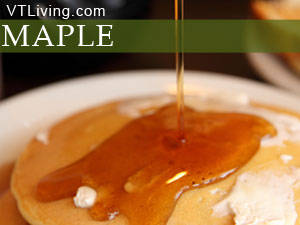 Real Vermont maple syrup, right from the shack can only be experienced during "sugaring" season. Maple sugar time is when the sap is running in the maple trees – usually early spring when daytime temperatures rise and the evenings are cool. Vermont maple producers and sugarhouse operators must be prepared and have the lines, buckets, and equipment ready by mid February to be safe. Visit a Vermont sugarhouse for more information, watch maple syrup be made. Be sure to contact the Vermont Maple Sugarhouse owners to confirm hours of operation and maple syrup availability. Please mention VTLiving.com when you inquire.
Follow these links to learn more about Vermont Maple Syrup
Vermont Maple Syrup Information
"Nature's Natural & Healthful Sweetener"

Products | Visit VT Towns | Shopping