Vermont Sugar On Snow
A VT Maple Syrup Harvest Tradition, Sugar on Snow Recipe

It's just plain sweeter here in Vermont! And that is especially true during maple sugaring season – just ask any Vermont Maple Sugar Maker. Vermont's maple trees herald the sounds of a sugaring new season, drip by drip. The maple trees are responding to nature and the sap begins to flow – when it does a wise Vermont Maple Producer knows to have his buckets ready and his lines all drawn and closed. To share your Vermont business with us, please contact us. Learn more about advertising in VTLiving.
Vermont Sugar on Snow – Maple Season Tradition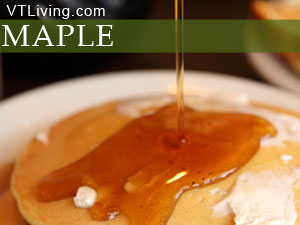 The first time I heard about Sugar on Snow was one day at work during the maple harvest season when everyone I knew was leaving to go to a Sugar on Snow Party.  I knew this event had something to do with the maple syrup harvest, but it did not sound overly appealing and without inquiring further I opted not to attend.  I was a fool!
Sugar on Snow Parties started long ago during the maple syrup harvest season when avid maple sap gatherers returned to the fire pit to reap the reward of their labor.  It isn't hard to imagine how the first snow became sugared – probably purely by accident when a bit of hot syrup was spilled on the snow during the gatherers' 'taste'.
When hot maple syrup is drizzled over snow, it results in a remarkably delicious candy-like substance that northern New Englanders crave.  You must be very precise with your drizzle and the temperature of the syrup – too hot a syrup and the snow melts too fast – too cool a syrup and it becomes watery, straining through the snow to the bottom of the pot.  The perfectly heated syrup will form a lace-like pattern across the top of the snow and quickly harden to be gobbled up by eager sugar-eaters.
Following is a recipe for Sugar on Snow. The party happens naturally just by telling your family and friends you'll be sugaring snow this weekend!
SUGAR ON SNOW RECIPE

Ingredients

Directions

Vermont Fancy, Grade-A Light Amber Maple Syrup
Pure white snow
Sour Pickles
Donuts

Boil syrup to 255 degrees Fahrenheit.

Scoop snow into large bowl or pan.

Drizzle hot maple syrup lightly over snow.

Use forks to eat the sticky top layer.

Follow with a bite of sour pickle or your favorite donut.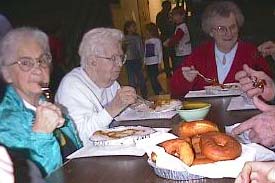 Vermont Products | Vermont Maple Sugar Producers | Events


Robb Family Farm, 827 Ames Hill Road, Brattleboro, VT 05301
Home of fine Vermont crafts. We produce the purest maple syrup you can find as well as a large assortment of fine hand-crafted treasures. Enjoy the scenic Vermont landscape from the bac of a horse-drawn wagon or sleigh. The country Shop is a family run business, consisting of a charming gift shop, farm events, mail order and baked goods by order. The shop is open throughout the year from it's annual Valentine Sweetheart Hayride until Christmas.
Visit Website
---


Green Mountain Sugar House, Rte 100N, Box 820, Ludlow, Vermont 05149
Our award winning maple candy is still being made and shipped daily along with our 100 % pure maple syrup. When you see the steam roll from the Green Mountain Sugar House, stop in and have a taste of the sweetest stuff on earth. Our red roofed sugar house, just steps away from the water's edge, is where we make everything from maple syrup to mouth-watering maple fudge. It's also a Vermont country gift shop. Make the Green Mountain Sugar House a planned stop whenever you're in the area... you'll be glad you did! Order online
Visit Website
---


Sugarbush Farm, 591 Sugarbush Farm Road, Woodstock, VT 05091
Sugarbush farm is located on a 550 acre hilltop outside of Woodstock Village. Visitors watch cheese production, year round maple tours, sample Sugarbush Farm cheeses and other Vermont products, including; Maple Products and Honey. You can walk the nature trail, see farm animals, and best of all free admission. The farm is located 3 miles off US Route 4 on Hillside Road, across from the Taftsville Bridge, 3 miles east of Woodstock. The Farm Store is open daily from 9:00am to 5:00pm.
Visit Website
---
Dining | Real Estate | Skiing | Vacation Rentals | Inns | Hotels | Resorts
Classified Ads | Golfing | Events | Attractions | Sports | Personals
Pet Friendly Lodging | Meeting Rooms | Weddings
Products | VT Town Photos | Shopping
CLICK HERE TO SUBSCRIBE



Stay up-to-date on VT happenings

Search Vermont Living Magazine