Vermont Maple Syrup
VT Maple Producers, Maple Products, Maple Sugar House

It's just plain sweeter here in Vermont! And that is especially true during maple sugaring season – just ask any Vermont Maple Sugar Maker. Vermont's maple trees herald the sounds of a sugaring new season, drip by drip. The maple trees are responding to nature and the sap begins to flow – when it does a wise Vermont Maple Producer knows to have his buckets ready and his lines all drawn and closed. To share your Vermont business with us, please contact us. Learn more about advertising in VTLiving.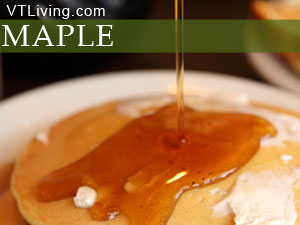 This annual event happens late February (in far southern Vermont) or sometimes in March – the exact date varies but any sugarmaker will tell you – the warm sunny days followed by crisp cool nights will make for a longer sap run and a better maple sugaring season. The Vermont maple season can sometimes last into April.
Vermont has quite a few seasoned maple producers and sugarmakers out there, after all this is America's leading maple producing state. Upwards of 350,000 gallons of pure Vermont maple syrup is produced here each year.
Maple Sugar Making
Many maple sugarmakers now use plastic pipelines and boil down the sap in modern stainless evaporators, but some still gather and boil the old fashioned way; with horse drawn wagons and wood fired evaporators. The sugar shack steam is a welcome sign of spring to come.
A Vermont Maple Weekend
Visiting an operating maple sugar shack is an unforgettable experience. The aroma of boiling sap and the taste of fresh maple syrup are guaranteed to bring a smile. Try old fashioned sugar on snow, or warm maple syrup over ice cream. A Vermont sugar-season tradition is a "sweet and sour" – maple syrup followed by a bite of pickle. Another is cider donuts served with maple syrup. Wow!
Vermont Products | Vermont Maple Sugar Producers | Events
Champlain Valley VT Maple Producers
Burlington, Middlebury, St. Albans, the Islands of NW Vermont
North Central VT Maple Producers
Montpelier, Barre, Randolph, Waterbury, Stowe, Mad River Valley
Northeast Kingdom VT Maple Producers
St. Johnsbury, Newport, Barton, Lyndonville, Burke, Jay, Island Pond
South Central VT Maple Producers
Rutland, White River Jct., Woodstock, Quechee, Brandon, Killington, Ludlow, Weston, Chester
Southern VT Maple Producers
Bennington, Brattleboro, Manchester, Arlington, Newfane, Mt. Snow area
CLICK HERE TO SUBSCRIBE



Stay up-to-date on VT happenings
Dining | Real Estate | Skiing | Vacation Rentals | Inns | Hotels | Resorts
Classified Ads | Golfing | Events | Attractions | Fishing | Personals
Pet Friendly Lodging | Meeting Rooms | Weddings
Products | VT Towns & Cities | Shopping

New Hampshire | Maine | Connecticut | Massachusetts | Rhode Island
New England Living Magazine