Rock Climbing in Vermont
VT Rock Climbing Adventure Tours & Lingo

Looking for an outdoor sport that inspires, challenges, and moves you to new heights? Try rock climbing in Vermont! Rock climbing is a sport that which requires both agility of mind and body, where the chief ingredient for success is not the most expensive gear, but the bravery and determination of the participant. For it's devotees, rock climbing is about accomplishment. Rock climbers do not climb, but conquer the mountain walls they call their playground. Using every muscle, climbers negotiate the rock faces and at the top they receive the reward. Unparalleled views, an incredible sense of pride, and a feeling of unity with nature. Please share your Vermont Rock Climbing comments. To feature your VT business, contact us.


Vermont Adventure Tours, 223 Woodstock Ave. Rutland, VT 05701
Get ready for the exciting sports of rock and ice climbing! Experience the thrill, the joy, and the challenge of these incredible adventures that offer both physical and mental stimulation and reward. Vermont Adventure Tours Climbing School is dedicated to taking you outdoors in a safe, fun and educational environment. Our instructors are ready to show you skills and a great time. Whether you have a group of 10 looking for a crazy adventure, or you're a climber looking to improve your skills and learn something new, we'll show you the way!
Visit Vermont Adventure Tours Website
---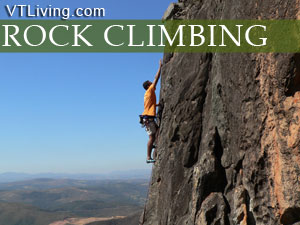 Rock climbing photographs and information about this growing sport may be found in this article, or browse the info below.
Rock Climbing Vocabulary:
Here are a few words and phrases you'll need to know.
YDS – Yosemite Decimal System. A difficulty rating system for climbs.
Free Climbing – climbing with hands and feet; the rope is used only to hold a fall.
Solo Climbing – climbing without a rope.
Belay – The person holding the other end of the rope.
Rappelling – sliding back down the rock with ropes.
Pitch – the distance between belay points.
Basic Necessary Equipment List:
Things that you will need to begin in the sport of rock climbing:
Climbing Shoes – These shoes have a special sticky rubber sole that help you get traction on the rock.
Climbing Ropes – Special rope with stretching action.
Harness – The key piece of equipment for performance and safety.
Belay Device – Provides a way to hold you during a fall
Beginning Rock Climbing:
When beginning rock climbing, you should always consult an expert who can give you instructions and encouragement. There is much to learn about safety, and a qualified instructor can show you the ins and outs on staying safe on the rocks.
Where to Rock Climb in Vermont?
The following is a short list of VT Rock Climbing hot spots:
Lake Dunmore State Park – Near Middlebury, VT
8-10 Climbs of varying difficulty. A great, challenging place to climb.
Deer Leap Mountain – Killington, VT
A well-developed excellent climbing rock wall north of Rt. 4 near Long Trail.

Products | Visit VT Towns | Shopping