Rock Climbing
Rock Climbing In New England

Looking for an outdoor sport that inspires, challenges, and moves you to new heights? Try rock climbing in Vermont! Rock climbing is a sport that which requires both agility of mind and body, where the chief ingredient for success is not the most expensive gear, but the bravery and determination of the participant. For it's devotees, rock climbing is about accomplishment. Rock climbers do not climb, but conquer the mountain walls they call their playground. Using every muscle, climbers negotiate the rock faces and at the top they receive the reward. Unparalleled views, an incredible sense of pride, and a feeling of unity with nature.Ask us about Vermont Rock Climbing or share Vermont Adverture Sports comments. To feature your Vermont business, contact us.
Vermont Rock Climbing & Adventure Sports


Vermont Adventure Tours, 223 Woodstock Ave. Rutland, VT 05701
Get ready for the exciting sports of rock and ice climbing! Experience the thrill, the joy, and the challenge of these incredible adventures that offer both physical and mental stimulation and reward. Vermont Adventure Tours Climbing School is dedicated to taking you outdoors in a safe, fun and educational environment. Our instructors are ready to show you skills and a great time. Whether you have a group of 10 looking for a crazy adventure, or you're a climber looking to improve your skills and learn something new, we'll show you the way!
Visit Vermont Adventure Tours Website
---
The human desire to climb starts early: first on living room furniture and later on the jungle gym at the playground. It is no surprise, then, that rock climbing and bouldering are fast-growing pastimes in the Northeast. Scaling high mountains and rocky cliffs is merely an extensions of the childhood instinct to climb high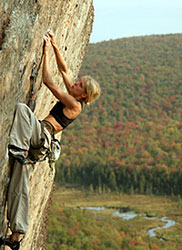 For climbing and bouldering neophytes, rock climbing generally refers to high places requiring roped protection. Bouldering refers to climbing on large rocks or at the bottoms of cliffs — low enough so that the only equipment needed is a pair of shoes and a soft pad on which to land.
"I like climbing," says guide Steve Charest of Petra Cliffs Climbing Center in Burlington Vermont, "because I enjoy being outdoors and for the adrenaline of it all." There is more, of course, than just the excitement. Pressing your body close to a limestone or granite crag, you see, feel — even hug — every crack, bulge, and contour along the way. Rock climbing is an opportunity to intimately experience the landscape inch-by-inch and handhold-by-handhold.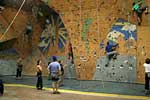 In addition, the safety aspects of climbing and bouldering require thought, attention, and know-how. "It really makes you think," says Charest. This is why most newcomers learn first from professionals — often starting indoors before tackling the real thing. Rock climbing gyms are perfect for learning and training because of their accessibility and variety — and because anchors and ropes are already set up. Most gyms offer instruction for all abilities and ages.
While New Hamspire and Maine feature world-reknowned climbing destinations like Acadia and North Conway, Charest describes Vermont climbing spots as more "under the radar." The more famous areas are well-documented in climbing guidebooks, while off the beaten path means less crowded and less developed. And there are still routes and pitches yet to be discovered.
When you climb, remember to err on the side of safety, to learn from an experienced professional, and to have a "rockin'" good time!
– Mark Aiken for Vermont Living Magazine
To find Vermont Rock Climbing locations click here.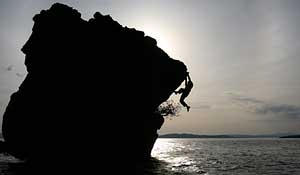 Products | Visit VT Towns | Shopping