Vermont Smokehouses
Vermont Smoked Products, Hams, Specialty Foods, Smoked Cheese

Welcome to the VTLiving listing of Vermont smokehouses. In addition to many varieties of smoked chicken, turkey, pork, red meats, sausages, and fish, most smokehouses offer many other products, such as smoked cheese, real Vermont maple syrup, and homemade jams. Any trip to Vermont will be incomplete without visiting at least one of these culinary institutions. Vermont Living urges you to visit a Vermont farm, country store or maple sugarhouse and bring home some real Vermont quality food products to share with your friends. Feature your Vermont Smokehouse, Specialty Food Product, or Country Store. To share your Vermont business with us, please contact us. Learn more about advertising in VTLiving.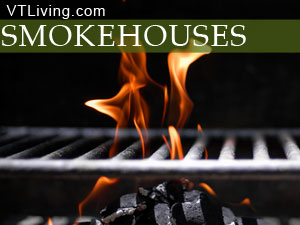 Green Mountain Smokehouse
341 Rte. 5
Windsor, VT 05089
Ph.: 802-674-6653
Wholesale. Products: bacon, ham, pork chops, ribs, sausages, cheese, marinated meats, chicken, turkey, pepperoni, and jerkey.
Dakin Farm
5797 Rte. 7
Ferrisburgh, VT
Vermont Retail store and mail order. Products: cob-smoked & maple-coated bacon, hams, cheeses, jams, and other specialty foods.
Harrington's of Vermont
210 E. Main St.
Richmond, VT
Ph.: 802-434-4444
Retail store & mail order. Products: smoked hams, cob- & maplewood-smoked bacon, and other Vermont specialty food products.
Smokin' Bones Smokehouse
Beaver Meadow Rd.
Sharon, VT 05065
Ph.: 802-649-1388
Retail store. Products: ham, bacon, loins, pork chops, cheese, and red meats.
Vermont Smoke & Cure
Rte. 14
South Barre, VT 05670
Ph.: 802-476-4666
Retail store & mail order. Products: maple-cured & cob-smoked bacon & ham, maple, hot Italian & sweet Italian sausages.
Champlain Valley VT Restaurants
Burlington, Middlebury, St. Albans, the Islands of NW Vermont
North Central VT Restaurants
Montpelier, Barre, Randolph, Waterbury, Stowe, Mad River Valley
Northeast Kingdom VT Restaurants
St. Johnsbury, Newport, Barton, Lyndonville, Burke, Jay, Island Pond
South Central VT Restaurants
Rutland, White River Jct., Woodstock, Quechee, Brandon, Killington, Ludlow, Weston, Chester
Southern VT Restaurants
Bennington, Brattleboro, Manchester, Arlington, Newfane, Mt. Snow area
Dining | Real Estate | Skiing | Vacation Rentals | Inns | Hotels | Resorts
Classified Ads | Golfing | Events | Attractions | Sports | Personals
Pet Friendly Lodging | Meeting Rooms | Weddings
Products | VT Town Photos | Shopping
CLICK HERE TO SUBSCRIBE



Stay up-to-date on VT happenings

New Hampshire | Maine | Connecticut | Massachusetts | Rhode Island
New England Living Magazine
Search Vermont Living