Orleans County Fair
Vermont State Fairs, Field Days, Expos & Festivals

Vermont fairs, expos and festivals make for a great Vermont vacation. Plan your Vermont vacation around one of the many Vermont country fairs, festivals or expositions. Enjoy all four seasons in the beautiful Green Mountain State. Attend a real Vermont Country Fair. From country casual with 4-H exhibits and oxen pulls to high-tech educational displays, you can find something of interest for just about anyone at a Vermont Fair. VT Fairs and Expos are subject to change information without notice – call the fairs to confirm information before you finalize your travel plans. To share your Vermont business with us, please contact us. Learn more about advertising in VTLiving.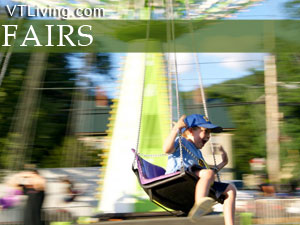 Orleans County Fair
278 Roaring Brook Park / PO Box 580
Barton, VT
Ph: 802-525-3555
Held in August
For more information, contact:
Harvey Cleveland, President
278 Roaring Brook Rd. / PO Box 580
Barton, VT 05822
Ph: 802-525-3555
Agricultural exhibits, 4 – H displays, cattle and sheep shows, cattle judging, antique tractor pulls, kiddie rides, crafts, grange exhibits, harness racing, petting zoo, poultry and rabbit displays, live entertainment, horse pulling, horse show, and demo derby. A great old time country fair.


Vermont Fairs Festivals & Expos
For Vermont fair dates visit VERMONT EVENTS our online event calendar
Dining | Real Estate | Skiing | Vacation Rentals | Inns | Hotels | Resorts
Classified Ads | Golfing | Events | Attractions | Sports | Personals
Pet Friendly Lodging | Meeting Rooms | Weddings
Products | VT Town Photos | Shopping
CLICK HERE TO SUBSCRIBE



Stay up-to-date on VT happenings

New Hampshire | Maine | Connecticut | Massachusetts | Rhode Island
New England Living Magazine
Search Vermont Living