Bread & Puppet Theater & Art Museum
Glover Vermont Attraction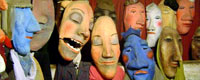 Heights Road, Route 122, Glover, VT 05839 • Ph: 802-525-3031
Journey in to this refurbished 100-year old barn and be amazed by the world's largest collection of gigantic puppets. Every summer, the Bread and Puppet Theatre presents a variety of performances. These performances have grown to be some of the most popular attractions in all of northeastern Vermont. Theatre performances usually include a theme of political satire with visiting poets and speakers, a variety of exhibits, live music, complimentary fresh-baked breads, and of course, those giant puppets. The Museum provides guided tours and also sells artwork, tapes, prints, and music. The Bread & Puppet Museum is located on Route 122 in the northeastern Vermont town of Glover. Most travelers take Exit 25 off of I-91 in Barton, Vermont, then drive south on Route 15 to Route 122. Vermont's beautiful mountain scenery makes for a very pleasant drive to visit this unique New England Museum and Theatre. For additional information and a season performance schedule, contact Museum Director, Peter Schumann at 802-525-3031. Sorry, alcoholic beverages and pets are not permitted on the premises.
Category: Museums, Theaters, Performances, Art
Rate this Attraction: Roll over star and click to rate this business
View ratings
Rate this Business
Rate this Business
Ratings
Current average ratings.
SHARE COMMENTS[ ]  UPDATE BUSINESS[ ]    SHARE PHOTOS[ ]
---
Review

"This is the most unusual and creative show you might ever see the creativity and the art into this show is just wonderful children love it as do adults well worth it a great show!" – Trip Advisor Review June 2013
---
Review

"This is an amazing experience. Having a rainy day? Too cold to go swimming? Take a drive to this place and plan to be charmed, amused and moved by the puppets on display. You can pick up some "Cheap Art" and, if the extremely creative works of Peter Schuman and company don't do it for you, enjoy the amazing vernacular architecture of the barn itself. It's like a gigantic sculpture all on it's own. I don't think there's anything like this anywhere within a 300 mile radius…or maybe in the world. So, see this one!" – Trip Advisor Review June 2013
---
If you are interested in featuring your Northeast Kingdom Vermont attraction in Vermont Living Magazine, please contact us.

Share Vermont photos on Facebook or Winner Photos 
Champlain Valley VT Attractions
Burlington, Middlebury, St. Albans, the Islands of NW Vermont
North Central VT Attractions
Montpelier, Barre, Randolph, Waterbury, Stowe, Mad River Valley
Northeast Kingdom VT Attractions
St. Johnsbury, Newport, Barton, Lyndonville, Burke, Jay, Island Pond
South Central VT Attractions
Rutland, White River Jct., Woodstock, Quechee, Brandon, Killington, Ludlow, Weston, Chester
Southern VT Attractions
Bennington, Brattleboro, Manchester, Arlington, Newfane, Mt. Snow area
Dining | Real Estate | Skiing | Vacation Rentals | Inns | Hotels | Resorts
Classified Ads | Golfing | Events | Attractions | Sports | Personals
Pet Friendly Lodging | Meeting Rooms | Weddings
Products | VT Towns & Cities | Shopping
CLICK HERE TO SUBSCRIBE

Stay up-to-date on VT happenings

New Hampshire | Maine | Connecticut | Massachusetts | Rhode Island
New England Living Magazine

Search Vermont Living