VT Advertising Agencies
Vermont Social Media Advertising & Public Relations Services

Vermont advertising agencies can help your business increase market share and present a professional image in print, radio, TV, and on the internet. The Vermont advertising community has grown dramatically in recent years providing excellent "in-state" options for media creation, web site development, advertising placement and marketing strategy. The growth of the internet and direct mail marketing has created additional niches for VT advertising firms. Some of North America's most progressive companies contract with Vermont based advertising agencies, find out more by contacting the Vermont Ad Agency(s) of interest to you. Ask us about VT Advertising & Marketing Agents or share comments. To feature your business, contact us.
Vermont Advertising & Marketing Agents


Newmedia Websites - Responsive Websites
A responsive web site displays and functions on any size browser, iPad, notebook, iPhone, Droid Phone or any size screen tablet. A true responsive website will prepare your business for tomorrow. We build, design, host and market responsive websites, CMS, and WordPress websites that are easy for you to maintain yourself.
Visit Website
---

Multimedia - Webhosting, Dedicated Servers, Hosting Plans for Small Business

Find unparrelled webhosting plans and web servers with full bandwidth to the WWW. For a no-obligation discussion of your website hosting needs contact Multimedia. Providing local Vermont businesses with web hosting and other web site services since 1995. Member Heart of Vermont Chamber of Commerce, HTML Writers Guild. Ask about discounts for Chamber of Commerce Members and Vermont non-profit organizations.
Visit Website
---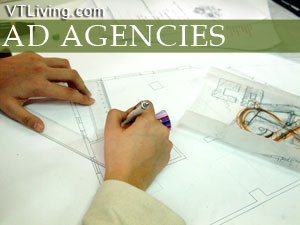 Acrobatix Worldwide
Manchester Village, VT 05254
Ph: 802-367-7000
Burch & Company
115 College Street
Burlington, VT
Ph: 802-864-0576
Caleidoscope Communications Company
Burlington, VT
Ph: 802-864-0300
CK Interactive (a.k.a. Level Nine)
Barre, VT
Ph: 800-895-5988
Cambium Group, LLC
58 East State Street
St. Johnsbury, VT
Ph: 802-745-1191
Communicators Group
Brattleboro, VT
Ph: 802-257-4321
Cook Creative Advertising, Inc.
476 Main St., Suite #2
Winooski, VT 05404
Ph: 802-651-9620
Palmer Creative Group
Stowe, VT
Ph: 802-253-9668
Earthlogic, Inc.
Essex, VT
Ph: 802-899-5510
Evergreen Direct
155 Maple St.
Middlebury, VT 05753
Ph: 802-388-4088
Fuse, LLC
Burlington, VT
Ph: 802-864-7123
Ghostwriters Communications
Poultney, VT
Ph: 802-287-4284
Govill, Inc.
Milton, VT
Ph: 802-864-0723
Highland Autumn Marketing
Newport, VT
Ph: 802-334-7711
HMC Advertising
Stowe, VT
Ph: 802-253-7141
Hayes Group
Williston, VT
Ph: 802-864-7868
Howell Martin
Brattleboro, VT
Ph: 802-257-7174
Imagination Company
Bethel, VT
Ph: 802-234-5809
Kelliher Samets Volk
212 Battery Street
Burlington, VT
Ph: 802-862-8261
Kerr Advertising
Montpelier, VT
Ph: 802-229-4998
Lundy Keetle & Company
Burlington, VT
Ph: 802-863-5313
Lizara Consulting
Middlesex, VT
Ph: 802-223-4010
Marketing Partners
Burlington, VT
Ph: 802-864-6710
Max'IT – Maximum Information Technology
Winooski, VT
Ph: 802-864-1110
Meling & Associates
Rutland, VT
Ph: 802-774-1030
Metro Group
Rutland, VT
Ph: 802-773-2728
MRB Media Services
East Wallingford, VT
Ph: 888-672-2486
Manchester Advertising
Manchester Center, VT
Ph: 802-362-4823
Media Associates
Pawlet, VT
Ph: 802-325-3449
Monitor Premiums LLC
Burlington, VT
Ph: 802-865-0094
Morris, DeMay, McCarty, Inc.
Burlington, VT
Ph: 802-863-4066
New Breed Marketing
The Champlain Mill
Winooski, VT 05404
Ph: 802-655-0800
Nomad Communications
White River Jct., VT
Ph: 802-649-1995
PDI Creative Communication
Burlington, VT
Ph: 802-658-4207
Paul Kaza Associates
South Burlington, VT
Ph: 802-863-5956
Place Creative Company
Burlington, VT
Ph: 802-660-2051
PostScript, Inc.
Burlington, VT
Ph: 802-863-2568
PP &D Brochure Distribution Service
Burlington, VT
Ph: 802-862-4366
Red Door Design
Waitsfield, VT
Ph: 802-496-2573
Red Dot Communications
Bondville, VT
Ph: 802-297-9600
RPM design + marketing
166 Battery Street
Burlington, VT 05401
Ph: 802-316-1975
Scuola Group
Burlington, VT
Ph: 802-660-3422
Shark Communications Inc.
Burlington, VT
Ph: 802-658-5440
Small Planet Inc.
92 Center Street
Rutland, VT 05701
Ph: 802-747-7561
Smith Street Design
Shoreham, VT
Ph: 802-989-1318
Spike Advertising Inc.
266 Pine Street
Burlington, VT 05401
Ph: 802-951-1700
Sullivan, Brownell, Davies Inc.
Randolph, VT
Ph: 802-728-3300
Tree Frog Studio
Rutland, VT
Ph: 802-492-6105
Two Dogs Marketing
259 Grow Road
Johnson, VT 05656
Ph: 802-635-7700
TimeWave Media
166 Battery Street
Burlington, VT 05401
Ph: 802-316-1975
Missing Something? Share your comment or business review
Dining | Real Estate | Skiing | Vacation Rentals | Inns | Hotels | Resorts
Classified Ads | Golfing | Events | Attractions | Sports | Personals
Pet Friendly Lodging | Meeting Rooms | Weddings
Products | VT Town Photos | Shopping
CLICK HERE TO SUBSCRIBE



Stay up-to-date on VT happenings

Search Vermont Living Magazine