Surprise Your Reception Guests with a Doggie Dance!
Including Pets in Weddings

Yes, it's true. You can dance the night away with your new spouse and your dog. What fun it would be to include your dog in your reception by adding a doggie dance to the DJs list of announcements! Of course, if you haven't done so already, you must first train your dog to dance. There are now freestyle trainers available to teach your dog to dance with you. But, you don't have to hire a trainer, or be an expert freestyler yourself. Now, you can teach your dog some basic dance steps right in your own living room. Ask us Vermont Pet Friendly Weddings or share your comments. To feature your Vermont wedding or pet friendly lodging, contact us.
Vermont Pet Friendly Weddings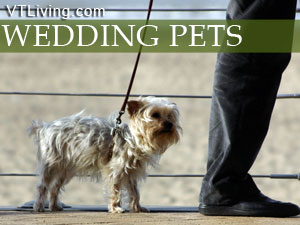 Of course it wouldn't hurt, and it may simplify the process, to observe a freestyle demonstration before beginning your doggie dance lessons.  To start dancing, your dog needs to know the 'heel' command (walk on your left side), and the 'right' command (walk on your right side).  Teach these basic commands first and then start adding spins, leaps, and more complex moves to your routine.  Freestyle trainer information is available at the end of this article.
Music Selection Is Very Important
The first step is to make sure your dance music is enjoyable for both you and your dog.  While you may enjoy pop music, your dog might prefer classical or country and western.  If your dog doesn't like the music, he will demonstrate disobedience by laying down or walking away. You will be able to tell your dog's preference by his reaction to the different types of music you select.  The one he responds to most eagerly is the best type to use while dancing at your reception.
Learn Basic Dance Steps First
Assuming your dog has been through basic training and understands the 'heel' command, it will be easier for both of you to start your dance steps with him on your left.  Start by holding his favorite soft treat in your left hand, allowing him to get just a whiff of it.  When his interest is peaked, begin to slowly walk and turn, keeping the treat just slightly ahead of him at nose level.  Once he has the idea, reward him with the treat and begin again with another, this time increasing your turn until it becomes a spin…  now you and your dog have started four-legged dancing!
Add Advanced Steps To Your Routine
Once you have the turn and four-legged-spin routine down pat, try to add a four-legged hop or leap, or a two-legged spin.  These steps are more difficult and may require a trainer's input.  It is important to teach a command word to coincide with each dance step your dog learns.  For example, if you want him to stand on his hind legs, you could use the command 'up-tall'.  If you want him to turn on his hind legs, you could use the command 'up-turn'.  You will most likely have to help your dog balance at first by gently holding his front paws, or with a larger dog, by placing his front paws on your shoulders.  This practice aid could lead to a new dance step called 'up-waltz'… 
Make Lessons Fun
Remember to keep lessons enjoyable and brief.   This will entice him to want to dance more often  – to the point that he even starts begging for a lesson.  Doggie dancing is great fun and a good form exercise for both  you and your dog.  And, when you get really good at it, you could enter a freestyle competition to show off your talent.
Above all, remember that this is a fun activity for you and your dog.  If he doesn't want to dance you won't be able to make him do so.  Some dogs just don't have a talent for dancing, and would be happier watching from the sidelines.
Online Freestyle Organizations Are Available


Inn at Manchester, Route 7A, Box 41, Manchester Village, VT 05254 | 802-362-1793
A refreshing take on the classic Vermont getaway with an irresistible wrap-around porch, secluded pool, four exceptional acres of lawn and gardens. Every detail is about your comfort. Begin your day with a full country breakfast; end it with a relaxing cocktail in the fully licensed pub. Located in the heart of just about everything; antiquing, theatre, art, and history. Manchester Village specialty shops, designer outlets, golf and tennis. Skiing nearby. Free wireless internet. The Inn at Manchester family welcome you.
Visit Inn at Manchester Website
---

The Vermont Inn, 69 Rt. 4, Mendon, VT 05701

We love to host weddings. Surrounded by the Green Mountains, we offer a beautiful spot for a wedding. Customized celebration to fit each couple's dreams. We will be happy to be your Wedding Planner. Bring your friends and families to the Inn and enjoy the weekend while we take care of all the details. The Vermont Inn can accommodate up to 75 people for a formal sit-down dinner in our restaurant's dining room and larger weddings and outdoor affairs up to 225 people. Join us.
Visit The Vermont Inn Website
---

Castle Hill Resort and Spa, Junction of Rt. 103 & 131, Ludlow, VT 05149

Tucked in the heart of Vermont's Green Mountains, Castle Hill Resort and Spa is the perfect destination wedding venue for capturing dreams and creating memories. An elegant full service resort awaits your most precious day with wedding packages available for 2-250 people. Experience the magic, wonder and romance of a wedding at the Castle Hill Resort and Spa.
Visit Castle Hill Resort and Spa Website
---

Green Mountain Inn, 18 Main Street, Stowe, VT 05672

Classic… timeless… exquisitely orchestrated - your wedding celebration at the historic Green Mountain Inn in the heart of Stowe village – a short walk from the Stowe Community Church (popular for ceremonies). The beautiful Main Street Dining Room sets the stage for a remarkable event, and guests may choose from 105 rooms, luxury suites & townhouses.
Visit Green Mountain Inn Website
---

Waybury Inn, Route 125, E. Middlebury, VT 05740

Located at the foot of the Green Mountains, the Waybury Inn has offered comfortable lodging and unpretentious fine dining since 1810. 14 unique guest suites present the most modern amenities to today's guests, yet are filled with elegant and charming details from the past. Amenities include deep, claw foot tubs, Jacuzzi suite, free wireless internet, full service bar, elegant cooked to order breakfast that includes eggs benedict. Serving dinner daily, and Sunday brunch. An excellent choice for your Vermont wedding.
Visit Waybury Inn Website
---


Middlebury Inn, 14 Courthouse Square, Middlebury, VT 05753

With 70 guest rooms, the Middlebury Inn offers the perfect blend of modern comfort and classic historic charm. Welcoming travelers since 1827, the inn now has all of the amenities of a full service hotel, including fine dining, a pub, and meeting and banquet space to accommodate your Vermont wedding. Located between Burlington and Rutland and convenient to many Vermont attractions, this inn is perfect for that pampered fresh-air getaway, family reunion or professional retreat.
Visit Middlebury Inn Website
---


Best Western Inn & Suites, 5 Best Western Place, Rutland, VT 05701 | 800-780-7234
For spacious comfort in the heart of Vermont's picturesque Green Mountains, visit the Best Western Inn & Suites located in the Rutland / Killington area. Situated near charming antique shops, famous covered bridges, historic museums, and Killington - Pico skiing and golfing. Daily complimentary continental breakfast of hot waffles, fresh fruits, sweet pastries and a selection of yogurt and cereal finished with bottomless Green Mountain Coffee®. Free wifi and an outdoor heated pool.
Visit Best Western Inn & Suites Rutland
---


The Inn at Ormsby Hill, 1842 Main Street, Manchester Center, VT 05255 | 802-362-1163
Welcome to Manchester Vermont's AAA 4 Diamond Inn - the ideal destination for your New England getaway. Spend a luxurious stay and enjoy our truly unique and relaxing accommodations. Choose from our 10 guest rooms - all feature a romantic whirlpool tub for two, fireplace, and plush comforts of a luxurious bed. The Inn at Ormsby Hill is a Select Registry member and winner of TripAdvisor "Certificate of Excellence" award. We look forward to your visit.
Visit The Inn at Ormsby Hill Website
---


Holiday Inn Club Vacations® at Ascutney Mountain Resort, Brownsville, VT
Say "I Do" with a picturesque mountainside ceremony. Then, celebrate your happily ever after in a ballroom setting with beautiful linens, a dance floor and a selection of culinary choices for your guests to enjoy.
Vermont Weddings at Ascutney Mountain Resort
---


Country Weddings
Find the ideal country wedding venue in Country Weddings. The ideal Vermont wedding begins at Country Weddings - Vermont Wedding Destinations, Honeymoon Lodging and marriage planning tips, planners and more.
Visit Country Weddings Website
---
You and your dog might enjoy freestyle more if you can participate with other dancers to gain input and exchange ideas.  Call a local obedience trainer and ask if they offer freestyle training.   National freestyle organizations exist and are available on line – they are the Canine Freestyle Federation (www.canine-freestyle.org), and the World Canine Freestyle Organization at (www.woofs.org/wcfo).
Dining | Real Estate | Skiing | Vacation Rentals | Inns | Hotels | Resorts
Classified Ads | Golfing | Events | Attractions | Sports | Personals
Pet Friendly Lodging | Meeting Rooms | Weddings
Products | VT Town Photos | Shopping