Vermont Tour Guides
VT Fun Tours – Mountain Biking & Micro Brew Tours
Plan for four times the fun with 4 Points VT. This Stowe area based Vermont tours company offers new and exciting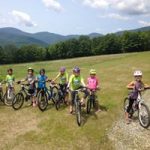 ways to have fun in Vermont.  Improve your biking skills, try fat biking, or take a guided Vermont Mountain Biking Adventure with 4 Points VT.  All ages outdoor adventure fun in the Green Mountains has never been easier.   Ask us about 4 Points VT in Stowe, VT.
VT Mountain Bike Tours & Lessons
Meet Vermont's "fun guide" – Mr. Rick Sokoloff. Rick is the co-founder and past President of the Stowe Mountain Bike Club and is a certified Mountain Biking instructor. As owner/operator of 4 Points VT he and his crew of riders currently offer private Mountain Biking Lessons, Group Trail Bike Lessons, and a Mountain Bike Guide Service. If you ever wanted to learn how to Mountain Bike but were intimidated or not sure about how to get started – 4 Points VT is your answer. They'll get you to your comfort level and improve your riding skills – from first-time bikers to experienced mountain cyclists.
This spring 4 Points VT will be offering 4-week skills development Mountain Bike Clinics geared towards beginner and intermediate riders to improve fundamentals and gain comfort. "I really like these clinics because I get to see progress over the 4 weeks" – Rick Sokoloff.
Vermont Mountain Biking & VT Beer Tours
When 4 Points Mt Bike School first began, a close friend of Rick's said: "If you're teaching Mountain Biking, then you need to run brewery tours!". It did not take long before 4 Points began offering Vermont Brewery Tours as a stand-alone Vermont Guided Tour or as a great addition to a morning of mountain biking. Contact 4 Points VT for more information about Vermont Guide Tours. It's possible to spend 3 hrs in the morning mountain biking and then lunch and then start a custom designed VT brewery tour. Visit www.4PointsVT.com for more information. Thanks for telling Rick that VTLiving sent you. Reach him at 802-793-9246. A VT Guided Mountain Biking or Beer Tour is a great party idea.


4 Points VT, Mountain Bike School & Guides, Brewery Tours, Stowe, VT 05672 | 802-793-9246
Interested in Mountain Biking? Let our trained instructors show you the fundamentals to get you going and help you be a stronger and more confident rider. Already a competent mountain biker, we can bring you to the best trails in the area to suit your taste. Ask us about Fat Biking in winter, and Green Mountain hiking tours.In addition, 4 Points Brewery Tours can take you to some of the best local breweries in Vermont. We do the driving so you can sample. Great after a morning mountain biking or as a stand-alone event. Perfect for a Wedding Bachelor/Bachelorette party, Family Gathering, Corporate Outing or Birthday Celebration. Group Tours and Custom tours available.
Visit 4 Points VT Website
---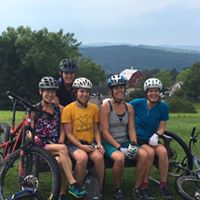 Stowe, VT
Ph: 802-793-9246
Visit Stowe, Vermont.


4 Points VT is a recommended Vermont Guide Tour Company.
inns | hotels | resorts | rentals | attractions | dining | real estate
 Lodging Guide | VT Maps | VT Attractions | VT Realty

Products | Visit VT Towns | Shopping

New England Living Magazine