VT Snowshoeing
Vermont Snowshoe Trails & Vacation Lodging

Snowshoeing has been prevalent in Vermont's Green Mountains for over two centuries, and was once relied upon as a means of travel during winter. Now, snowshoeing is an excellent recreation and an outstanding way for non-skiers to enjoy Vermont's snowy winters. Vermont has outstanding snowshoeing destinations and snowshoe tour operators. Follow the links below for more information. Ask us about VT Snowshoe vacations or share snowshoeing comments. To feature your business, contact us.
Vermont Snowshoeing Vacations


The Wildflower Inn, Darling Hill Road, Lyndonville, VT 05851
Snowshoeing at the Wildflower Inn "rewards us with a panorama of distant trees, …a thousand blinking diamonds on the surface of the snow… and rising mountains". Boston Globe, January 2004. With on-site snowshoe rentals and an extensive network of trails, this family-friendly country resort on 570 acres is perfect for a snowshoeing getaway! Comfortable rooms and suites, mountain views, cozy sitting rooms with woodstoves, and a casual atmosphere. Onsite x-country skiing, sledding, skating, bonfires, petting barn, kids' playroom, hot tub, and sauna. Burke Mountain skiiing, Kingdom Trails, just a few miles away for downhill skiing. Country breakfast included. Guided Snowshoe Walks are available.
Visit Website
---

Vermont Adventure Tours, 223 Woodstock Ave. Rutland, VT 05701
Interested in exploring Vermont's Winter Wilderness? We offer 1/2 day backcountry snowshoe trips of all ability levels. Snowshoes, poles, and instruction are provided on every trip. 4 hour tours are the norm...but we will customize a trip to any time or distance you want (price reflective of time.) We can take you to beautiful areas, with amazing views only minutes from the vehicle, or hike for miles through remote mountain terrain.
Visit Vermont Adventure Tours Website
---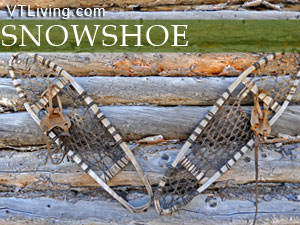 With the invention of the snowmobile, snowshoeing became less common, being looked upon more as an activity one would do only out of sheer necessity.  That is, until the concept of snowshoeing changed, making it a 'sport' rather than a means of transportation. Snowshoeing races are now an annual event in Killington, and other Vermont vacation resorts. A leisurely walk through the woods on a pair of snowshoes can be an exhilarating experience, and something the entire family can enjoy.
Enjoyed by visitors of all ages, Vermont snowshoeing venues are as varied as the terrain they traverse.  From easy to moderate treks over meadows and mountains, to Burlington's 300-mile Catamount Trail, Vermont offers snowshoeing terrain for all ages and skill levels.
Many of Vermont's mountains have easily accessible peaks affording panoramic views of snow-covered New England countryside – even as far as Canada's distant mountains.
Before you head into the woods to snowshoe, visit Snowshoeing Tips.

Products | Visit VT Towns | Shopping