VT Spring Skiing Events
Vermont's End of Ski Season Festivals & Parties

We found some great VT Spring Ski Parties! Don't miss out on the huge variety of end of ski year celebrations taking place at Vermont Ski Areas. VT Spring SKI Events range from the timeless pond skimming to reggae with live music, you can't go wrong. Ask us about VT Spring Skiing, or share reviews and comments.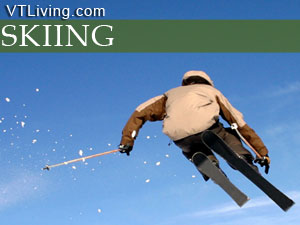 March 25-27, 2016
Bud Light Reggaefest at Mount Snow Resort
Bud Light Reggaefest returns to Mount Snow for a weekend of fantastic live Reggae music! Featuring great performances at the Snow Barn as well as a party out in the Base Area Saturday and Sunday. Annual Sink or Skim Pond Skimming competition on Saturday and the Duct Tape Derby on Sunday.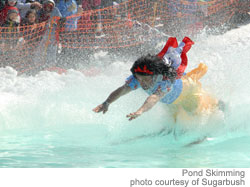 March 26, 2016
Spring Fling at Bromley Mountain Resort
A Bromley family's favorite sun-soaked (or just plain soaked) event is back for another year. Featuring pond skimming, a duct tape derby, live music and even some rides from the summer adventure park.
March 26, 2016
5th Annual Bromley Rando Race
Rando – short for randonnée – ski racing like the old days. Skiers challenge the mountain both up and down, without the help of chairlifts.
March 26, 2016
Q Burke Annual Pond Skim Competition Burke Mountain
Join the fun at Burke Mountain Resort in the Northeast Kingdom. Who knows you may even be crowned the King and Queen of this annual pond skimming competition.
March 26, 2016
80s Retro Jam at Okemo Mountain Resort
The 80's are back in style at this dance-filled Okemo Mountain event. Open to all ages.
March 26, 2016
Mardi Gras at Stratton Mountain Resort – Marchdi Gras Village Winterfest
Stratton celebrates Marchdi Gras and the Annual Village (Southern-Style) Block Party. Live music, specialty food and drink, the famous Stratton ice bar.
March 27, 2016
Golden Egg Hunt at Mount Snow Resort
Mount Snow Resorts Annual Golden Egg Hunt. If you find the Golden Egg, you win a season pass for the next ski season. All ages can search for the Golden Egg.
March 27, 2016
Easter Egg Hunt at Bromley Mountain Resort
The Easter Bunny plans to stop at the Sun Mountain on Sunday, March 27, hiding a special golden egg. Find the golden egg and get a certificate for a Teen or Junior Ski Season Pass! The Golden egg hunt begins at 8:30am.
Champlain Valley VT Ski Areas
Burlington, Middlebury, St. Albans, the Islands of NW Vermont
North Central VT Ski Areas
Montpelier, Barre, Randolph, Waterbury, Stowe, Mad River Valley
Northeast Kingdom VT Ski Areas
St. Johnsbury, Newport, Barton, Lyndonville, Burke, Jay, Island Pond
South Central VT Ski Areas
Rutland, White River Jct., Woodstock, Quechee, Brandon, Killington, Ludlow, Weston, Chester
Southern VT Ski Areas
Bennington, Brattleboro, Manchester, Arlington, Newfane, Mt. Snow area
Dining | Real Estate | Skiing | Vacation Rentals | Inns | Hotels | Resorts
Classified Ads | Golfing | Events | Attractions | Sports | Personals
Pet Friendly Lodging | Meeting Rooms | Weddings
Products | VT Town Photos | Shopping