VT Shopping Facts
Vermont Stores – Malls – Outlet Centers

The annual countdown to the holiday gift giving season is on. Don't make this years shopping a last minute chore – plan a relaxing and fun weekend or midweek getaway to Vermont. The state offers some great shopping sites; whether you're looking for designer fashions, hard-to-find antiques, rare books, or Vermont crafts and hand-made items. Vermont is famous for quality made-in-Vermont specialty foods, furniture, jewelry, pottery, blown glass and much more. Ask us about VT Shopping or share your store reviews. To feature your Vermont retail store, contact us.
VT Stores & Shopping Outlet Facts


Green Mountain Sugar House, Rte 100N, Box 820, Ludlow, Vermont 05149
Our award winning maple candy is still being made and shipped daily along with our 100 % pure maple syrup. When you see the steam roll from the Green Mountain Sugar House, stop in and have a taste of the sweetest stuff on earth. Our red roofed sugar house, just steps away from the water's edge, is where we make everything from maple syrup to mouth-watering maple fudge. It's also a Vermont country gift shop. Make the Green Mountain Sugar House a planned stop ... you'll be glad you did! Order online on our website.
Visit Green Mountain Sugar House Ludlow
---


The Dutton Berry Farmstands, Route 30, Newfane, VT and Route 11-30 in Manchester, VT and Route 9 in West Brattleboro, VT
Dutton Berry Farmstands are well known for their Vermont grown produce and other unique local products. Whether it is fresh farmer-grown fruits and vegetables, cider, maple syrup or plants, you'll enjoy visiting a true Vermont farm experience.
Visit Dutton Berry Farm Newfane W. Brattleboro Manchester
---


Robb Family Farm, 827 Ames Hill Road, Brattleboro, VT 05301
Home of fine Vermont crafts. We produce the purest maple syrup you can find as well as a large assortment of fine hand-crafted treasures. Enjoy the scenic Vermont landscape from the bac of a horse-drawn wagon or sleigh. The country Shop is a family run business, consisting of a charming gift shop, farm events, mail order and baked goods by order. The shop is open throughout the year from it's annual Valentine Sweetheart Hayride until Christmas.
Visit Robb Family Farm Brattleboro
---

Sugarbush Farm, 591 Sugarbush Farm Road, Woodstock, VT 05091
Sugarbush farm is located on a 550 acre hilltop outside of Woodstock Village. Visitors watch cheese production, year round maple tours, sample Sugarbush Farm cheeses and other Vermont products, including; Maple Products and Honey. You can walk the nature trail, see farm animals, and best of all free admission. The farm is located 3 miles off US Route 4 on Hillside Road, across from the Taftsville Bridge, 3 miles east of Woodstock. The Farm Store is open daily from 9:00am to 5:00pm.
Visit Sugarbush Farm Woodstock
---


Allen Pole Pruner, 6023 US Route 5, Westminster, VT 05158 | 802-722-3331
The Allen Pole Pruner is proven to be faster and more convenient than power equipment for pruning trees. Homeowners and garden professionals agree the Allen Pole Pruner is easer is use and is more durable than any pole pruner on the market - and its made in America. View a video of this amazing Vermont product in action by the developer, Tim Allen.
Visit Allen Pole Pruner Westminster
---


Allen Brothers Farms, 6023 US Route 5, Westminster, VT 05158 | 802-722-3395
We are a uniquely Vermont combination of practical and beautiful. We have an inhouse bakery featuring cider donuts, pie, cakes and cookies , a deli with signature Mac & Cheese, pizza and other warm options as well as made to order sandwiches, a country store filled with local Vermont products, locally grown seasonal produce with our own apples, corn, strawberries, and squash and pumpkins, a gas station, a nursery and garden center. Come and see what we have for you at exit 5 off I-91, easy off and on
Visit Allen Bros. Farms Westminster
---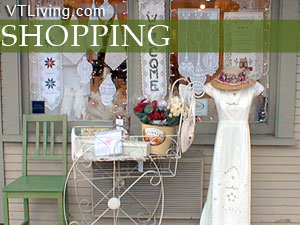 Vermont is home to major outlet centers and shopping malls offering significant savings on name-brand products in a quaint New England setting.
Vermont offers numerous antique shops and gift boutiques – the perfect solution to those hard-to-buy-for folks.
Vermont is the best place to spend a week or weekend shopping while enjoying all the beautiful Green Mountains have to offer.

Products | Visit VT Towns | Shopping