Scott Farm Orchards


Scott Farm Orchard, 707 Kipling Road, Dummerston, VT 05301 | 802-254-6868
The Scott Farm, listed on the National Register of Historic Places, has been in active cultivation since 1791. This 571 acre farm includes over 120 varieties of ecologically grown heirloom apples on 40 acres. Harvest starts in late August and peaks in October. We have a pick-your-own orchard and numerous seasonal events. Check out website for details.
Visit Website
---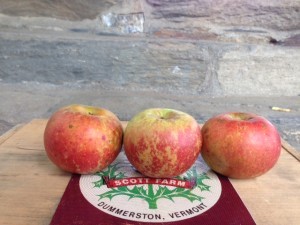 The Scott Farm, listed on the National Register of Historic Places, has been in active cultivation since 1791. This 571 acre farm has been owned since 1995 by The Landmark Trust USA, a non-profit organization whose mission is to rescue important but neglected historic properties and bring them back to life. At Scott Farm this has meant revitalizing the entire farm operation from orchard to farmhouses to barns.  A highly recommended Vermont apple orchard in Dummerston. Ask us about Scott Farm Orchards.
707 Kipling Road
Dummerston, VT 05301
Ph: 802-254-6868
Visit Dummerston, Vermont.
Scotts Farm Orchards is a recommended Vermont Orchard.

Products | Visit VT Towns | Shopping