Manchester's Bistro Henry
VT Dining Reviews – Best Restaurants in VT
Include Me shortcode: file not found

Welcome VTLiving's Vermont Restaurant & Dining Reviews. Discover the best Vermont restaurants and eateries. Vermont farms offer a wide variety of the freshest ingredients. Find great Vermont seafoods, chef-owned fine dining inns and classic diners. This is Northern New England and the variety of outstanding restaurants in Vermont will amaze you. Ethnic, Asian and Italian Cuisine, Steakhouses and fast food done right. VTLiving thanks you for supporting the great farms and restaurants of Vermont. Ask us about VT chefs or share your comments. To feature your Vermont restaurant, contact us.
Bistro Henry: Manchester VT Dining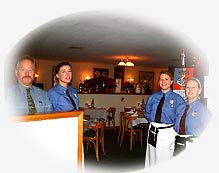 Dining Out….at Bistro Henry, Rtes 11 & 30, Manchester Vermont. Bistro Henry is the perfect place for an elegant dining experience, but with a more casual dining atmosphere. When I inquired if Henry was in this evening? The response was if the door is unlocked then Henry (Chef – Owner Henry Bronson) is in the restaurant.
We were treated to some of the best service that we have experienced anywhere, a fine wine by the glass list as well as an outstanding bottled wine list as we sat down to hear the daily specials. Full bar is also available.
The salads were outstanding with a house dressing of mustard vingerette, you can choose blue cheese sprinkled delicately on top if you like. The bread was warm, crusty, and gone in a very short period of time.
Special included, Butternut Apple Soup, and Sole stuffed with a crabmeat lobster stuffing in a lobster sauce. Also on the menu, Angel Hair Pasta with Shrimp, Roasted Corn & Lemon Cream sauce. That is about as far as we got into the menu. And nobody wanted to share.
Although the menu has Lamb, Sweetbreads, Duck only one way, Salmon, Trout, Steak and Chicken, which looked outstanding. Our selections could not have been better, and the presentation superb.
Dessert, prepared by Dina, (Henry's Wife) topped off dinner and completed the excellent meal. We did share Maple Creme Brulee, Pear & Blueberry Crisp, and one of the lightest textured Maple Pecan Pie slices that we had ever had. I wished I had looked at the dessert menu first, but Oh no I would not have wanted to miss the Sole.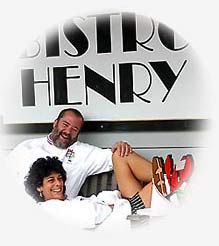 Henry Bronson & Pastry Chef "Extraordinaire" Dina
My recommendation is that Bistro Henry is a must in the Manchester area for people who like food. I did see several local people there and that will tell you that this is a quality restaurant with reasonable prices and delicious food.
Please let them know that VTLiving.com asked you to stop by.


1778 Rts. 11 & 30
Manchester Center, VT 05255
Ph: 802-362-4982
Visit www.bistrohenry.com or e-mail
Champlain Valley VT Dining
Burlington, Middlebury, St. Albans, the Islands of NW Vermont
North Central VT Dining
Montpelier, Barre, Randolph, Waterbury, Stowe, Mad River Valley
Northeast Kingdom VT Dining
St. Johnsbury, Newport, Barton, Lyndonville, Burke, Jay, Island Pond
South Central VT Dining
Rutland, White River Jct., Woodstock, Quechee, Brandon, Killington, Ludlow, Weston, Chester
Southern VT Dining
Bennington, Brattleboro, Manchester, Arlington, Newfane, Mt. Snow area

VT Products | Visit VT Towns | Shopping