VT Art Galleries
Vermont Art Studios & Artists Galleries

Vermont is a great state to shop for art. Vermont has some of the nation's most unique and diverse galleries and art centers. You can find Vermont artists studios, art galleries, art and cultural centers in every region of the Green Mountain state. Please share your VT Art Gallery comments. To feature your business, contact us.
VT Art Galleries – Artists Studios


Vermont Antique Mall, 5573 Woodstock Road, Quechee, VT 05059 | 802 281-4147
Located in the heart of Quechee Gorge Village, you'll find our 17,000 square foot barn filled with antiques, vintage and collectable treasures. Come see the area's largest selection, with hundreds of dealer booths and new stock daily. Nearby eateries and seasonal events make this a "must see" for all ages. Shop where the dealers shop! Open daily 10am – 5pm.
Visit Vermont Antique Mall Website
---


Greensboro Barn & Gallery, Greensboro, VT 05851 | 802-533-9281
Artist Jennifer Ranz watercolors, pottery and more in a centuries old New England Barn.
Visit Website
---

Trademark Fine Art Vermont Map Matted Framed Art by Michael Tompsett in Wood Frame, 11 by 14-Inch
---
Flapper Woman Cigarette Case Business Card Case Wallet Art Deco
---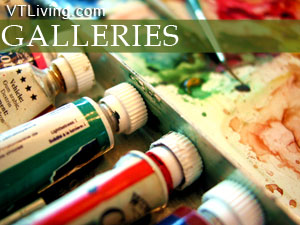 Dorset Gallery
41 Church Street
Dorset VT 05251
Ph: 802-867-4225
The Arlington Gallery
Rt. 7A,
Arlington, VT
Ph: 802-375-6423
Features the Norman Rockwell exhibition, home of the famous artist from 1939 to 1953. Exhibits housed in old church listed on the National Register of Historic Places.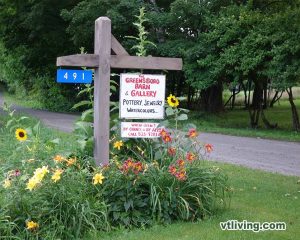 Vermont Folklife Center
Court St.,
Middlebury, VT
Ph: 802-388-4964
Folk art and rural traditions.
Gallery in the Woods
143 Main Street
Brattleboro VT 05301
Ph: 802-257-4777
Chaffee Center for the Visual Arts
Rt. 7, South Main St.,
Rutland, VT
Ph: 802-775-0356.
Original works from Vermont artists in a century-old Victorian mansion on the National Register of Historic Places.
The Miller Art Center, Springfield Art & Historical Society
Springfield, VT
Ph: 802-885-2415.
Collection includes Richard Lee Pewter, Bennington Pottery and 19th century American paintings.
Gallery at the VAULT (Visual Art Using Local Talent)
68 Main St.
Springfield, VT
Ph: 802-885-7111.
VAULT is located in the 1907 Bank Block Building, beautifully restored, featuring a floor to ceiling Victorian vault. Currently showcasing local and regional, juried, artists, and artisans in the gallery and gift shop. A nice place to help support Vermont artists.
Grand Isle Art Works
259 US Rte 2
Grand Isle VT 05458
Ph: 802-378-4591
The Witt Gallery
Route 30
Pawlet, VT
Ph: 802-325-3248
Specializes in American talent. Many award winners in a charming 19th century country house.
Tilting at Windmills Gallery
Rts. 11 & 30, PO Box 1275,
Manchester Center, VT 05255
Ph: 802-362-3022
One of New England's largest Fine Art Galleries, features a broad selection of work by national, regional, and international artists.
Frog Hollow Vermont State Craft Center
Historic Route 7-A
Manchester, VT
Ph: 802-362-3321
Features the work of over 230 juried Vermont artisans. Another Frog Hollow Center is located in Burlington. You'll find a unique collection of fine traditional and contemporary Vermont crafts.
Todd Gallery
614 Main St.,
Weston, VT
Ph: 802-824-5606
First floor gallery features a collection of pottery, functional ironwork, baskets, wooden ware and many more unique and beautiful Vermont made hand crafts. The second floor gallery features the work of Robert E. Todd, known for his paintings of Vermont and Ireland.
Firehouse Center For The Visual Arts
Church St.
Burlington, VT
Ph: 802-865-7166
Constantly changing collections in various media.
Rose St. Gallery
78 Rose St.
Burlington, VT
Ph: 802-888-7279
Constantly changing collections in various media.
Ziemke Glass Blowing Studio Art Gallery
3033 Waterbury-Stowe Rd
Waterbury Center, VT
Ph: 802-244-6126
Glass blowers and art lover will enjoy the wares found here.
Vermont Center for Photography
49 Flat Street
Brattleboro, VT
Ph: 802-251-6051
The Vermont Center for Photography serves a membership of over two hundred Vermont, New Hampshire and Western Massachusetts photographers.
Missing Something? Share your comment or business review
Dining | Real Estate | Skiing | Vacation Rentals | Inns | Hotels | Resorts
Classified Ads | Golfing | Events | Attractions | Sports | Personals
Pet Friendly Lodging | Meeting Rooms | Weddings
Products | VT Town Photos | Shopping