USDA Apples For Wildlife Program
Vermonters Help Raise Apple for Deer & Birds

In addition to the many pick-your-own apple orchards scattrerd through Vermont, many Vermonters also band together to grow apple trees for the wildlife of Vermont. Ask us about VT Apples or share Vermont Apple Orchard comments. To feature your VT orchard, contact us.
VT Apple Orchards & PYO Fruit Farms


The Dutton Berry Farmstands, Route 30, Newfane, VT and Route 11-30 in Manchester, VT and Route 9 in West Brattleboro, VT
Dutton Berry Farmstands are well known for their Vermont grown produce and other unique local products. Fresh picked apples straight from our orchard are available throughout apple season. Stop in and pick up a jug of Dutton Berry Farm's fresh made apple cider, made from our home grown apples. Whether it is fresh farmer-grown fruits and vegetables, cider, maple syrup or plants, you'll enjoy visiting a true Vermont farm experience.
Visit Dutton Berry Farmstands
---


Allen Brothers Farms, 6023 US Route 5, Westminster, VT 05158 | 802-722-3395
We are a uniquely Vermont combination of practical and beautiful. We have an inhouse bakery featuring cider donuts, pie, cakes and cookies , a deli with signature Mac & Cheese, pizza and other warm options as well as made to order sandwiches, a country store filled with local Vermont products, locally grown seasonal produce with our own apples, corn, strawberries, and squash and pumpkins, a gas station, a nursery and garden center. Come and see what we have for you at exit 5 off I-91, easy off and on
Visit Allen Bros. Farms Website
---
The Green Mountain National Forest maintains apple orchards in the Green Mountains of Vermont with the help of volunteers from several businesses and organizations. Apples For Wildlife partnerships include Orvis Company, The Ruffed Grouse Society, and the National Fish and Wildlife Foundation. The efforts of these groups combine to provide food for Vermont wildlife like; bear, deer, grouse, and nesting songbirds. Some of the apple orchards are located in the Green Mountain National Forest. Vermont Living thanks all of the individuals that contribute to this noble cause and encourages your to help support this important initiative.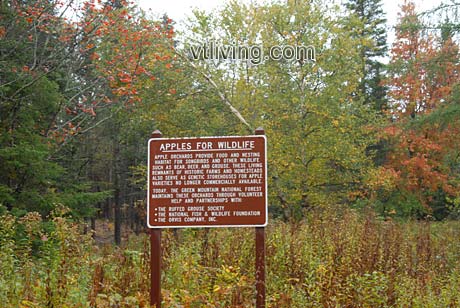 Every year volunteers assist in the growing Vermont apples in the wild.
The USDA administers the "Apples for Wildlife" Program.
Champlain Valley VT Apple Orchards
Burlington, Middlebury, St. Albans, the Islands of NW Vermont
North Central VT Apple Orchards
Montpelier, Barre, Randolph, Waterbury, Stowe, Mad River Valley
Northeast Kingdom VT Apple Orchards
St. Johnsbury, Newport, Barton, Lyndonville, Burke, Jay, Island Pond
South Central VT Apple Orchards
Rutland, White River Jct., Woodstock, Quechee, Brandon, Killington, Ludlow, Weston, Chester
Southern VT Apple Orchards
Bennington, Brattleboro, Manchester, Arlington, Newfane, Mt. Snow area
Vermont Activities | Vermont Attractions | Vermont Fairs | Vermont Events

Products | Visit VT Towns | Shopping