Vermont Spring Skiing
Enjoy Vermont's End of Ski Season Festivities

Looking for some excitement to start off the spring ski season? If so then don't miss out on the huge variety of end of ski year celebrations taking place all over northern New England. With Events ranging from the timeless pond skimming to reggae with live music, you can't go wrong. If you choose to visit the Green Mountain State, be sure to check out the Reggae-themed events at Mount Snow Resort. Great music and Jamaican barbecue can not be missed! To share your Vermont business with us, please contact us. Learn more about advertising in VTLiving.

Vermont Spring Ski Events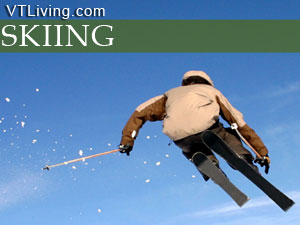 Stowe hosts a Spring Summit Celebration, which features a slope style competition where riders can show off their skills and take home some cash prizes. There are many other spring skiing events throughout Vermont, just keep reading.
Mountain Dew Vertical Challenge
Ascutney Mountain Resort Ski Area Brownsville, Vermont, 05037
Ph: 802-484-7000
Ascutney Mountain offers a GS race open to all skiers and snowboarders. There are equipment demos, music and a Vertical Victory Party with prizes and of course, fun!
Annual Big Dummy Air
Sugarbush Ski Area, Warren, Vermont
More information? 802-583-6300
Build your skiing and snowboarding dummy – then hurl it down the trail and see how far it goes! Big prizes for the best Dummy!
Reggae Fest, Pond Skimming & Duct Tape
Mount Snow Resort 12 Pisgah Road, West Dover, Vermont 05356
More Information? Ph: 802-464-4191
It's our annual celebration of the island music, mon. Join us for two days and two nights full of the music that takes you into bliss. The Snow Barn and Cuzzins Deck are where you'll find concert performances Friday night, Saturday, Saturday night, and Sunday afternoon. Of course island drink and food to compliment. Come on you can't have a Reggaefest without munchies.
Bear Mountain Mogul Challenge
Killington Resort, Killington, Vermont
More Information? Ph: 802-422-6200
This annual competition starts up on Saturday as 200 amateur bumpers cruise down the slopes of Outer Limits to battle it out for the highest honors. A second heat will return the next day in a head-to-head competition. Winners of that heat will advance and so on. Spectators enjoy the Bud Light Beer Festival and concert under a tent, so rain or shine, there will be fun.
Trout River Pond Skimming
Burke Mountain, East Burke, Vermont
More information? Ph: 802-626-7300
Limited to first 50 competitors (first come, first served). Prizes awarded to King & Queen of the Pond, Best Splash, Best Exit, Best Costume, Best Wet Look (men's/women's). Trout River Beer Garden & BBQ. This annual Northeast Kingdom event traditionally marks the end of the skiing season at Burke Mountain. Free Admission and free parking. Refreshments are available.
Spring Summit Celebration
Stowe Mountain Resort, Stowe, Vermont
More Infortmation? Ph: 800-253-4754
Start peeling the layers. Lose the hat and don't forget the SPF. It's all about the barbeques, beers, and bands. Stowe's annual Spring Summit Celebration is so big, it takes several weeks to fit it all in. Lots of great events, contests, deals, entertainment and fun are in store.
Annual Sunshine Daydream Festival
Killington Resort, Killington, Vermont
More Information? Ph: 802-422-6200
As a way to welcome in the spring season, Killington will host the 11th Annual Sunshine Daydream Festival, a tribute to the Grateful Dead. This years festival is part of the Bud Light Concert Series and will feature live music all day. Jerry-followers as well as those who simply enjoy soulful music will find an all-day party plus classic New England spring skiing and riding. Not only is this a chance for guests to get those old tie-dyes and Birkenstocks out of the closet but it's also an opportunity to soak up the spring sun and play in the spring snow. The 11th Annual Sunshine Daydream Festival will feature bands playing Grateful Dead covers during the day. Whether on or off the snow, Deadheads and wanna-be's will find activities for all ages. Ben & Jerry's will be giving out free samples of ice cream, plus there will be a mini shakedown street, drum circles and tie-dyeing. Festivities will be held at the K-1 Lodge. The event is free, and t-shirts will be available to purchase for tie-dyeing.
Champlain Valley VT Ski Areas
Burlington, Middlebury, St. Albans, the Islands of NW Vermont
North Central VT Ski Areas
Montpelier, Barre, Randolph, Waterbury, Stowe, Mad River Valley
Northeast Kingdom VT Ski Areas
St. Johnsbury, Newport, Barton, Lyndonville, Burke, Jay, Island Pond
South Central VT Ski Areas
Rutland, White River Jct., Woodstock, Quechee, Brandon, Killington, Ludlow, Weston, Chester
Southern VT Ski Areas
Bennington, Brattleboro, Manchester, Arlington, Newfane, Mt. Snow area
Dining | Real Estate | Skiing | Vacation Rentals | Inns | Hotels | Resorts
Classified Ads | Golfing | Events | Attractions | Sports | Personals
Pet Friendly Lodging | Meeting Rooms | Weddings
Products | VT Town Photos | Shopping
CLICK HERE TO SUBSCRIBE



Stay up-to-date on VT happenings

Search Vermont Living Magazine