Made in Vermont Products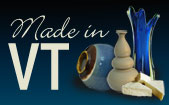 Vermont has earned an international reputation as a place where fine crafts and unique products are made and sold. Our Vermont Products page features some of the best selling products that you will find in a Vermont Country Store. Made in Vermont items vary widely from handmade jewelry, to kiln-fired pottery, paintings, carvings, furniture, clothing, hand-dyed yarns, natural soaps, glassworks, maple products, Teddy Bears, chocolates, specialty foods, cheese, coffee, yogurt and more.  Please share your Vermont Product reviews and comments. To feature your Made in Vermont products, contact us.


Green Mountain Sugar House, Rte 100N, Box 820, Ludlow, Vermont 05149
Our award winning maple candy is still being made and shipped daily along with our 100 % pure maple syrup. When you see the steam roll from the Green Mountain Sugar House, stop in and have a taste of the sweetest stuff on earth. Our red roofed sugar house, just steps away from the water's edge, is where we make everything from maple syrup to mouth-watering maple fudge. It's also a Vermont country gift shop. Make the Green Mountain Sugar House a planned stop ... you'll be glad you did! Order online on our website.
Visit Website
---


The Dutton Berry Farmstands, Route 30, Newfane, VT and Route 11-30 in Manchester, VT and Route 9 in West Brattleboro, VT
Dutton Berry Farmstands are well known for their Vermont grown produce and other unique local products. Whether it is fresh farmer-grown fruits and vegetables, cider, maple syrup or plants, you'll enjoy visiting a true Vermont farm experience.
Visit Website
---


The Apple Barn & Country Bake Shop, 604 Route 7 South, Bennington, VT 05201
Browse through farm wagons filled with favorite Vermont products! You can find maple syrup, wines, cheeses, and hard cider, or country classics such as soda crackers. Don't forget to memorialize your visit with souvenir T-shirts, hats, and so much more.
Visit Website
---
Gourmet Chocolate Assortment (15 piece)
Cold Hollow Cider Mill: Vermont Pumpkin Butter (Pack of 2) 8 oz Jars
Grafton Aged One Year Cheddar Cheese, 8 Ounce — 12 per case.
Missing Something? Share your comment or business review
Dining | Real Estate | Skiing | Vacation Rentals | Inns | Hotels | Resorts
Classified Ads | Golfing | Events | Attractions | Sports | Personals
Pet Friendly Lodging | Meeting Rooms | Weddings
Products | VT Town Photos | Shopping
CLICK HERE TO SUBSCRIBE



Stay up-to-date on VT happenings

Search Vermont Living Magazine