Vermont Fall Foliage Report & Prediction
Fall Foliage Reports & Season Preview courtesy of the Vermont Dept of Tourism

The Fall Foliage Season is the busiest time of the year for many Vermont inns, hotels, restaurants, attractions and other businesses. Find out about the "Magic of the Season" and discover how to find the perfect time to see the Autumn splendor. The state of Vermont is one of the nation's prettiest places to view fall foliage. Vermont has an abundance of paved, easy to navigate, back roads and by-ways ideal for exploring and photographing Fall Foliage. This northern New England offers mountain vistas, valley panoramas and sparkling lakes. Welcome to the Vermont Fall Foliage Guide, an informative guide to Vermont Fall Foliage. Read about Vermont's most popular fall foliage driving tours and Autumn events. Vermont offers some of the most beautiful fall foliage in the United States. To share your Vermont business with us, please contact us. Learn more about advertising in VTLiving.

Vermont Fall Foliage Reports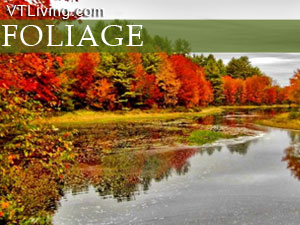 Vermont Foliage Display Continues in Western & Southern Counties
Areas west of the Green Mountains from Burlington to Middlebury and Rutland to Castleton are generally showing bright color. Colorful foliage can also be found in the lower elevations of southern Vermont in Windsor, Windham andBennington Counties.
"Look for the lemony yellows in stands of aspen along Route 2 and Route 4," said Ginger Anderson, chief of forest management for the Vermont Department of Forests, Parks and Recreation. "The oaks are turning in the Taconic Mountains and north, and there are warm russets and maroons developing in stands between Arlington and Manchester. Larch is still turning in central Vermont, creating more sunny yellows among bare trees."
Windsor County Forester Jon Bouton says the river valleys are also a good bet for fall foliage viewing this time of year.
"We're having some gorgeous weather this week, and I'd still stick to the lower elevations along the rivers," he said. "Ponds and lakes are not crowded for those who might want to bring or rent a canoe or kayak."
Best Bets: Route 2 from Richmond to Burlington is showing pockets of bright color, as is Route 7 from Burlington toCharlotte. Also recommended are Route 2 through the Champlain Islands, and Route 78 from Alburgh Center to Highgate.
In Addison and Rutland Counties, colorful foliage can be found on Route 7 from Middlebury to Rutland, Route 22A between Vergennes and Fair Haven, Route 4 between Fair Haven and Rutland, and Route 4A from Fair Haven to West Rutland. Also try Route 3 from Pittsford to West Rutland, Route 30 from Poultney to Cornwall, Route 74 from Middleburyto Lake Champlain, and Route 73 from Brandon to Shoreham.
In southern Vermont, suggested drives include Routes 7A and 7 from Manchester to Bennington, Route 313 in Arlington, Route 153 between Rupert and Wells, Route 315 near Rupert, Route 5 along the Connecticut River, Route 30 fromManchester to Rupert, Route 35 from Townshend to Chester, and Route 30 from Brattleboro to Newfane.
Champlain Valley VT Fall Foliage Drives
Burlington, Middlebury, St. Albans, the Islands of NW Vermont
North Central VT Fall Foliage Drives
Montpelier, Barre, Randolph, Waterbury, Stowe, Mad River Valley
Northeast Kingdom VT Fall Foliage Drives
St. Johnsbury, Newport, Barton, Lyndonville, Burke, Jay, Island Pond
South Central VT Fall Foliage Drives
Rutland, White River Jct., Woodstock, Quechee, Brandon, Killington, Ludlow, Weston, Chester
Southern VT Fall Foliage Drives
Bennington, Brattleboro, Manchester, Arlington, Newfane, Mt. Snow area
Dining | Real Estate | Skiing | Vacation Rentals | Inns | Hotels | Resorts
Classified Ads | Golfing | Events | Attractions | Sports | Personals
Pet Friendly Lodging | Meeting Rooms | Weddings
Products | VT Town Photos | Shopping
CLICK HERE TO SUBSCRIBE



Stay up-to-date on VT happenings

Search Vermont Living Magazine