Wilson Castle
Proctor Vermont Attraction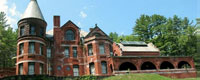 West Proctor Road, Proctor, VT • Ph: 802-773-3284
Just west of Rutland in the sleepy town of Proctor is Wilson Castle, an authentic English manor built by Dr. John Johnson in 1867. With the help of English architects, Johnson constructed 19 buildings with gables and towers. The finished castle was three stories high with 32 rooms, 13 fireplaces, and 84 stained glass windows. Animals collected from around the world roamed the 115 acre estate. Dr. Johnson built the estate with his wife's money, a wealthy invalid he had seduced into marriage. The castle was repossessed when his wife died, and Johnson was penniless – unable to afford taxes or maintenance. Antiques and valuables were taken by unpaid employees and auctioned off at a fraction of their value. Locals began to call the castle "Johnson's Folly." The estate changed hands 16 times, until 1939, when Colonel Herbert Wilson purchased the estate. A retired Army officer and extensive traveler, Wilson renovated the castle and filled it with objects of art. Five generations of the Wilson family have called the castle home since Herbert Wilson purchased it. The castle was opened to the public in 1962 due to public curiosity, and continues to offer tours today. Wilson Castle is open daily from Memorial Day (late May) to Columbus Day (mid-October).
Category: Historical Site, Museum, Tours
Rate this Attraction: Roll over star and click to rate this business
View ratings
Rate this Business
Rate this Business
Ratings
Current average ratings.
SHARE COMMENTS[ ]  UPDATE BUSINESS[ ]    SHARE PHOTOS[ ]
---
Review

"Although the building is crumbling and damp is ruining the plasterwork and furnishings, you can still see frescoed ceilings, stained glass windows, elegant furniture, Tiffany chandeliers and objects d'art from all over the world. Unfortunately our guide, although friendly and exuberant, was not well informed, and the volume of misinformation detracted from the true history of the building. The Castle raises money by hosting weddings and special functions, but it's time the State of Vermont stepped in to restore this extraordinary historical artifact." – Trip Advisor Review
---
Review

"See this place before it crumbles. It could be so much more if only they had the money to restore it. Tour was so-so, but the artifacts are beautiful." – Trip Advisor Review
---
If you are interested in featuring your South Central Vermont attraction in Vermont Living Magazine, please contact us.

Share Vermont photos on Facebook or Winner Photos 
Champlain Valley VT Attractions
Burlington, Middlebury, St. Albans, the Islands of NW Vermont
North Central VT Attractions
Montpelier, Barre, Randolph, Waterbury, Stowe, Mad River Valley
Northeast Kingdom VT Attractions
St. Johnsbury, Newport, Barton, Lyndonville, Burke, Jay, Island Pond
South Central VT Attractions
Rutland, White River Jct., Woodstock, Quechee, Brandon, Killington, Ludlow, Weston, Chester
Southern VT Attractions
Bennington, Brattleboro, Manchester, Arlington, Newfane, Mt. Snow area
Dining | Real Estate | Skiing | Vacation Rentals | Inns | Hotels | Resorts
Classified Ads | Golfing | Events | Attractions | Sports | Personals
Pet Friendly Lodging | Meeting Rooms | Weddings
Products | VT Towns & Cities | Shopping
CLICK HERE TO SUBSCRIBE

Stay up-to-date on VT happenings

New Hampshire | Maine | Connecticut | Massachusetts | Rhode Island
New England Living Magazine

Search Vermont Living