Ben & Jerry's Ice Cream Tours
Waterbury Vermont Attraction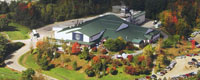 1281 Waterbury Stowe Road, Waterbury, VT 05676 • Ph: 802-882-1240
Famous Ben & Jerry's Ice Cream offerd guided tours at their Waterbury plant. Learn about ice cream production, visit the Cow Over the Moon theater, learn how the business was started and get a bird's eye view of ice cream production.
Category: Ice Cream, Tours
Rate this Attraction: Roll over star and click to rate this business
View ratings
Rate this Business
Rate this Business
Ratings
Current average ratings.
[button link="#comments" color="#4f6616" size="2" style="2" dark="0" radius="5"] SHARE COMMENTS[/button] [button link="#comments" color="#4f6616" size="2" style="2" dark="0" radius="5"] UPDATE BUSINESS[/button]   [button link="http://www.winnerphotos.com/vermont/" color="#4f6616" size="2" style="2" dark="0" radius="5"] SHARE PHOTOS[/button]
---
[label style="default"]Review[/label] "Great tour and great ice-cream.  We went a few hours out of our way during a recent road trip to do the tour and check out the Vermont country-side.  We loved the ice-cream and friendly environment of the B&J plant.  Taking off 1 star due to the cheesy tone the gal used during the tour which made me uncomfortable, but I would definitely visit again!!" – Yelp Review
---
[label style="default"]Review[/label] "With 3 kids under 10 in tow – a short, inexpensive tour with a sample at end was perfect. Graveyard was fun ending too! Knew what to expect from other reviews, so my expectations were met. It was a short drive from hotel, and made for a fun excursion on a rainy day. Advice: go early to beat lines/crowd. Enjoy." – Trip Advisor Review
---
If you are interested in featuring your Southern Vermont attraction in Vermont Living Magazine, please contact us.

Share Vermont photos on Facebook or Winner Photos 
Champlain Valley VT Attractions
Burlington, Middlebury, St. Albans, the Islands of NW Vermont
North Central VT Attractions
Montpelier, Barre, Randolph, Waterbury, Stowe, Mad River Valley
Northeast Kingdom VT Attractions
St. Johnsbury, Newport, Barton, Lyndonville, Burke, Jay, Island Pond
South Central VT Attractions
Rutland, White River Jct., Woodstock, Quechee, Brandon, Killington, Ludlow, Weston, Chester
Southern VT Attractions
Bennington, Brattleboro, Manchester, Arlington, Newfane, Mt. Snow area
CLICK HERE TO SUBSCRIBE



Stay up-to-date on VT happenings
Dining | Real Estate | Skiing | Vacation Rentals | Inns | Hotels | Resorts Classified Ads | Golfing | Events | Attractions | Fishing | Personals Pet Friendly Lodging | Meeting Rooms | Weddings Products | VT Towns & Cities | Shopping

New Hampshire | Maine | Connecticut | Massachusetts | Rhode Island
New England Living Magazine