The Wilmington Inn
Chef Dinner Celebrations

A handsome colonial structure dating back to 1894, the Wilmington Inn has a lovely living room with fireplace and conversation areas. Off the living room are the fully licensed Cocktail Bar with original tin ceiling, the Chart Room and a Fine Dining Restaurant with outdoor deck, all of which are open to the public for dinner.
Wilmington Inn has been recently renovated and they welcome visitors to their seven guest bedrooms and two suites featuring fireplaces, cable TV, DVD, Video and whirlpool baths. The inn also offers an in-house Massage Service which is open to both residents and the public. Ask us about Vermont Realtor or share your Vermont real estate agent comments. To feature your Vermont realty services, contact us.
Wilmington VT Lodging & Dining at Wilmington Inn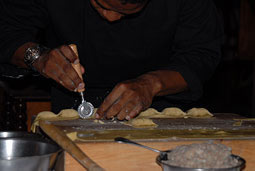 I learned to make Pasta and Raviolis last week over a glass of fine Northern Italian Red Wine and Antipasto. This treat was one of the special "Wilmington Tour Tastings" at The Wilmington Inn and Tavern in Wilmington, Vermont. This one featured the Piedmont Region (aka Piemonte) of Northern Italy and was presented by Chef Ismail assisted by Innkeepers John & Rachael Pilcher along with our wonderful waiter Ray. Piedmont was at the forefront of the Slow Food movement – so appropriate for this occasion. The Wilmington Inn's focus is on farm to table dining although the feature was northern Italy, most ingredients were purchased locally.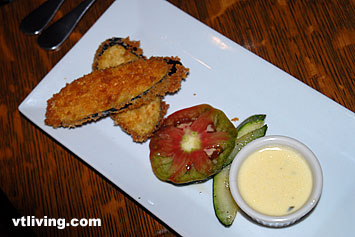 Part of the charm of this dining experience is that Chef Ismail demonstrates how to prepare part of the meal. This night he took us through the steps of making homemade pasta. Then constructing the veal ravioli that were to be the night's main course. Chef Ismail timed his presentation in a manner that allows you to dine and watch as he demonstrates his culinary techniques. He did not rush his work and we enjoyed seeing how our meal was prepared – without having to do any of the actual work ourselves!
The main dining room was a sell out for this one price dinner which included, an antipasto of raw veggies served with anchovies and a "hot bath" of garlic, oil, and anchovies. I was just slightly hesitant since I can be a bit finicky however, this was marvelous. Then on to the second course of freshly picked, grilled zucchini squash, heirloom tomatoes and breaded eggplant served with a delightful cream garlic reduction for dipping. Yummm!
Our third course was Risotto garnished with fresh herbs and more heirloom tomatoes. Then on to the feature…..ground local Vermont grown veal and rice stuffed fresh pasta ravioli. These were presented with a light brown veal sage sauce. Outstanding, light and full of flavorful. Last but not least our meal was topped off with a zabaione and fresh fruit. The light cream sauce and the fresh local berries were the perfect ending to a five-course dinner. This incredible dinner accompanied by two wine choices from the specific region left us well nourished and fully entertained. The fixed price of only $35.00 per person was also a nice ending.
Yet….our night had not ended…..we retreated to a wonderful Inn suite with a separate living space. The color cable TV, and comfortable new beds have been added to the Inn over the last year. The en-suite bathroom featured a large two person Jacuzzi tub. The large skylight above the tub made it, even more, inviting on this starry summer night.
Although our brief stay in Wilmington was coming to an end, we still had a great surprise at breakfast. Homemade blueberry pancakes, a veggie frittata, and reallygood coffee. Our overall experience was one of a true Inn stay. Warm friendly hosts, marvelous food, and great relaxing nights rest in a fun area that we could explore. We highly recommend that you venture across Route 9 into Wilmington, Vermont and experience the Wilmington Tour Tasting Chef Dinner at The Wilmington Inn.


The Wilmington Inn & Tavern,
41 West Main Street, Rt. 9 W
Wilmington, VT 05363 Ph: 800-845-7548 or 802-464-3768
www.thewilmingtoninn.com
Dining | Real Estate | Skiing | Vacation Rentals | Inns | Hotels | Resorts
Classified Ads | Golfing | Events | Attractions | Sports | Personals
Pet Friendly Lodging | Meeting Rooms | Weddings
Products | VT Town Photos | Shopping