Trapp Family Lodge
Winter Vacations Stowe VT's Von Trapp Family Lodge

Genuine hospitality, breathtaking scenery, superb dining, and year round events – featuring live music. An ideal Vermont vacation destination – The Trapp Family Lodge in Stowe, VT. Ask us about Trapp Family Lodge vacations or share comments. To feature your business, contact us.
Stowe Winter Vacations: Trapp Family Lodge

The Trapp Family Lodge, 700 Trapp Hill Road, Stowe, VT 05672
The Trapp family first started welcoming guests in the summer of 1950, today this 93 room resort retains it's original country charm. Owned and operated by the Trapp family, the inspiration for the classic musical and movie "The Sound of Music".
Visit Von Trapp Family Lodge Stowe
---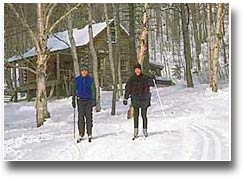 "We were two separate couples seeking one destination that could provide something for everyone, cross-country skiing, rejuvinating massage, work-out facilities, a nice indoor pool, excellent dining, and relaxing solitude. We found it all at Trapp Family Lodge in Stowe."
The Trapp Family Lodge is one of those places you'll never forget. The setting is spectacular at this world-class destination resort reverberates tradition and comfort.
We chose the Trapp Family Lodge to accommodate the needs of our travel companions, an active mid forties couple seeking cross-country skiing, work-out facilities, and healthy breakfasts. We were seeking quiet solitude, rest and relaxation. We found all that and more at Trapp Family Lodge.
The cross-country ski trails are fabulous. Miles of cross-country skiing for all skill levels. The trails are expertly groomed and the scenery "pure Vermont". Snow Country Magazine calls Trapp Family Lodge "quite simply, the finest cross-country ski resort in the United States", and Ski Magazine says "One of the best cross-country centers in the world".
The cross country ski center features a retail shop and equipment rentals, including a Fischer "demo" program and 45km of groomed trails and 100km of back-country trails. This is the largest cross-country ski center in Stowe.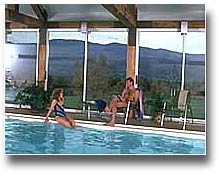 The fitness center is free for all guests at Trapp Family Lodge and includes a heated indoor swimming pool and some excellent exercise equipment. The workout room was uncrowded and includes outstanding views of the surrounding hills. All four of us opted for the optional massage session, it was completely rejuvenating. Trapp Family Lodge Fitness Center is located in it's own building just across from the main lodge and includes a 20′ X 40′ indoor, heated pool with spectacular mountain views, a rowing machine, Men's and Women's Changing rooms with showers, and a co-ed sauna. There are free weights, and a Life Fitness treadmill, recambant bike, and Stairmaster.
For relaxing we found comfortable chairs and couches in the sunny, plant-filled antrium. I read for several hours while soaking up the sunshine. A large table provided the support for my armful of newspapers.
The breakfasts at Trapp Family are something to look forward to. An ample European-style buffet with dozens of delicatables; from yogurt to fresh fruit, nuts and berries. One of our travel companions has dietary restrictions and found the made-to-order breakfast omelet "absolutely perfect".
One of the highlights of our visit was the horse-drawn carriage ride. The views are spectacular and resident Belgian horses named, Massie and Jill, seemed to enjoy the romp through the snow as much as we did.
In this hurried world I am forever grateful there are still places like The Trapp Family Lodge- an ideal destination for your Vermont adventure. Why not make your own memories? Tell them VTLiving.com sent you.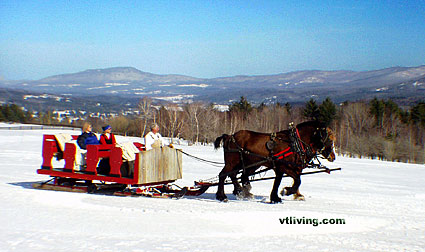 Trapp Family Lodge
700 Trapp Hill Road
Stowe, Vermont 05672
www.trappfamily.com
inns | hotels | resorts | rentals | attractions | dining | real estate
Dining | Real Estate | Skiing | Vacation Rentals | Inns | Hotels | Resorts
Classified Ads | Golfing | Events | Attractions | Sports | Personals
Pet Friendly Lodging | Meeting Rooms | Weddings
Products | VT Town Photos | Shopping