Trapp Family Lodge
The Sound of Music & Vermont's Green Mountains

Genuine hospitality, breathtaking scenery, superb dining, and year round events – featuring live music. An ideal Vermont vacation destination – The Trapp Family Lodge in Stowe, VT.

The Trapp Family Lodge, 700 Trapp Hill Road, Stowe, VT 05672
The Trapp family first started welcoming guests in the summer of 1950, today this 93 room resort retains it's original country charm. Owned and operated by the Trapp family, the inspiration for the classic musical and movie "The Sound of Music".
Visit Von Trapp Family Lodge Stowe
---
The enchantment of Stowe, the state's foremost travel destination, emanates from Mount Mansfield, Vermont's highest peak at 4,393 feet. Ask us about Trapp Family Lodge vacations or share comments. To feature your business, contact us.
Stowe Vermont Vacations: Trapp Family Lodge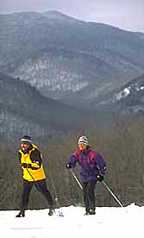 The hills truly did come alive with the sound of music after 1939 when Maria von Trapp bought an old 600-acre farm in Stowe because the panoramic mountain views reminded her of her native Austria. Her book, "The Trapp Family Singers," later became the inspiration for the Broadway musical and movie, and the family farm grew into one of Stowe's premier four-season resorts.
Stowe now has 65 lodges and inns offering elegant accommodations and dining, but the village has never lost its historic New England charm. Stowe's magic takes many forms throughout the year.
In autumn the romantic majesty of its changing foliage is unsurpassed. But Stowe is most famous for its winter sports, which are highlighted annually at a week-long winter carnival.
Stowe Mountain Resort is called the Ski Capital of the East with a vertical drop of 2,360 feet and 39 miles of skiing on 47 trails.
Cross country skiers have a variety of terrain available in the area, including the 5.5-mile Stowe Recreation Path.
For anyone seeking more extreme challenges, opportunities abound.
Smugglers' Notch, a narrow pass just northeast of Mount Mansfield, is well known to snowshoeing enthusiasts and ice climbers. A steep, winding road that cuts through the notch between boulders and cliffs is closed in the winter, but provides a dramatic scenic drive from May through November.
On Mount Mansfield, after the snow melts, a toll road and a high-speed gondola provide access to the summit and its spectacular views.
The Stowe region offers all kinds of outdoor summer pleasure, from canoeing and fishing to biking and horseback riding. Hikers enjoy a range of diverse trails, including the Long Trail which runs north and south the entire length of Vermont and crosses the summit of Mount Mansfield.
At the end of an exhilarating day or week visitors can relax to music in a picturesque meadow at the Trapp Family Lodge. During the summer the lodge features a series of Sunday evening concerts presented by Stowe Performing Arts and the Mozart Festival.

The Trapp Family Lodge, 700 Trapp Hill Road, Stowe, VT 05672
The Trapp family first started welcoming guests in the summer of 1950, today this 93 room resort retains it's original country charm. Owned and operated by the Trapp family, the inspiration for the classic musical and movie "The Sound of Music".
Visit Von Trapp Family Lodge Stowe
---
inns | hotels | resorts | rentals | attractions | dining | real estate
Dining | Real Estate | Skiing | Vacation Rentals | Inns | Hotels | Resorts
Classified Ads | Golfing | Events | Attractions | Sports | Personals
Pet Friendly Lodging | Meeting Rooms | Weddings
Products | VT Town Photos | Shopping