Shamrocks Rock

March is a good month to be green and Vermont is a great place to be green in – especially in March, when everyone loves to celebrate the greenest holiday of the year – St. Patrick's Day. "St. Paddy's Day", the holiday known for Leprechauns, Lucky Clovers and Green Beer, also provides another reason to visit Vermont – the Green Mountain State. Ask us about Vermont shopping or share your comments. To feature your Vermont store, shop or mall,  contact us.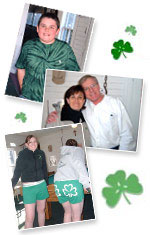 St. Patrick's Day is the most popular holiday of the year for the folks at Celtic Marketing. Celtic Marketing is a St. Johnsbury, Vermont based marketing company that works primarily with the food and grocery industries from Maine to Virginia. The company also produces a line of quality custom-printed apparel that celebrates St. Patrick's Day.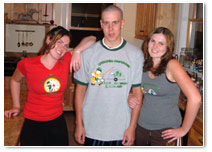 Shamrocks Rock is an online store that sells exclusive St. Patrick's Day clothing you won't find anywhere else. Both the online store and the custom designs are created by Dan Hughes, President of Celtic Marketing. This website features a selection of designs guaranteed to please the Irish in all of us. Fun and whimsical is the rule here, and new styles are always being added. Visit the website and see these one-of-a-kind togs for yourself.
inns | hotels | resorts | rentals | attractions | dining | real estate
Dining | Real Estate | Skiing | Vacation Rentals | Inns | Hotels | Resorts
Classified Ads | Golfing | Events | Attractions | Sports | Personals
Pet Friendly Lodging | Meeting Rooms | Weddings
Products | VT Town Photos | Shopping