The Inn at Weathersfield
A New England Culinary Inn

Welcome VTLiving's Vermont Restaurant & Dining Reviews. Discover the best Vermont restaurants and eateries. Vermont farms offer a wide variety of the freshest ingredients. Find great Vermont seafoods, chef-owned fine dining inns and classic diners. This is Northern New England and the variety of outstanding restaurants in Vermont will amaze you. Ethnic, Asian and Italian Cuisine, Steakhouses and fast food done right. VTLiving thanks you for supporting the great farms and restaurants of Vermont. Ask us about Vermont or share Vermont comments. To feature your Vermont business, contact us.
Vermont Dining in Weathersfield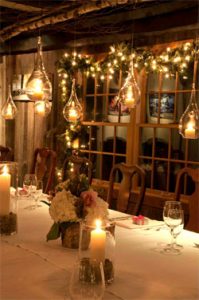 Is food important to you when you travel? Do you want the freshest ingredients combined with a know-how to make it all taste good? Do you want to be in a place where the most important aspect of the Inn is the food you eat from the moment you walk in the door to the treats you will take home with you? Innkeepers and owners Richard and Marilee along with Chef Jason are working at making The Inn at Weathersfield a foodie destination mecca.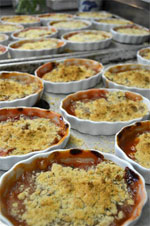 Chef Jason has been with The Inn at Weathersfield for several years. He has developed strong alliances with the area's purveyors. Chef Jason has taken the Farm-to-Table movement in Vermont to the top levels. His interpretation of a vegan Caesar Salad, using wild garlic ramp pesto, is outstanding. His use of rhubarb sauce on homemade cheesecake ice cream – YES, ice cream, a combination of two great items – leads to a sweet and sour palate pleaser. Local beef, veal, Vermont-made sausage, and chicken are some of the proteins on the menu. Chef has also developed a "surefire" way to address the Lactose, Vegan, Veggie, Gluten-free needs of his diners. It is called a Vitality Fix. Their menu features a baked & stuffed whole yam and sautéed kale with sauce Romesco.
Breakfasts at the inn are a blend of traditional and not so much so. Eggs, sausage and toast, yogurt parfait with a Vermont granola mix, and fresh fruit or buckwheat crepes with pastrami, cheese, and a side green salad with cider vinaigrette are some of the options. Try the veggie scramble for those special diets – truly amazing, and don't forget the "Roadie To-Go" bag, WARM Woods Cider House Doughnuts. See if you make it out of the yard before they are gone!
Specialties of the Inn at Weathersfield are weddings from 2 to 65 within the inn, and up to 110 with a tent. All include a very customized menu. This is not a menu where you select three items from each category. This is a truly custom menu just for your wedding. Make it a theme, choose your favorite food, make it truly vegan or gluten-free. The staff will work with you to achieve whatever needs you have, from flowers to cake, rehearsal dinners to breakfast the following day. Choose from several places throughout the property for your ceremony. By the pond, at the amphitheater, on the patio, in the inn, everything can be done your way.
For Richard and Marilee, becoming innkeepers was only a part of the plan.
inns | hotels | resorts | rentals | dining | real estate
Dining | Real Estate | Skiing | Vacation Rentals | Inns | Hotels | Resorts
Classified Ads | Golfing | Events | Attractions | Sports | Personals
Pet Friendly Lodging | Meeting Rooms | Weddings
Products | VT Town Photos | Shopping