The Inn at Mountain View Farm
East Burke, Vermont
The Inn at Mountain View Farm in the Northeast Kingdom of Vermont provides lodging and dining services.  Please share your Inn at Mountain View Farm reviews and comments. Follow the links below for current rates, lodging reviews and room reservations.
Inn at Mountain View Farm
The Inn at Mountain View Farm
Darling Hill Road
East Burke, Vermont

inns | hotels | resorts | rentals | attractions | dining | real estate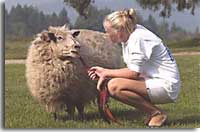 Although officially founded in mid-2003, The Mountain View Farm Animal Sanctuary happened gradually over the past 15 years starting with keeping cows as pets whose milking days were done. Founded by Dr. John Pastore (animal lover and prominent Boston cardiologist), The Mountain View Farm Animal Sanctuary is located on the same property as the Inn at Mountain View Farm, owned by the Doctor and his wife Marilyn.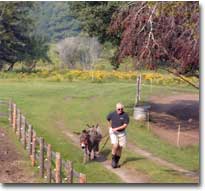 The idea of a sanctuary for large farm animals began informally in 2001 with the arrival of Molly and Emmy, a mother-and-daughter pair of miniature Sicilian donkeys, whom Pastore bought from the petting zoo at the Caledonia country fair. Emmy was born premature and at the time was two months old and on the verge of death when Pastore brought her to the Rochester Equine Clinic in New Hampshire. After 15 days in their newborn intensive care unit, Emmy went "home" to Mountain View Farm where she is now healthy and thriving.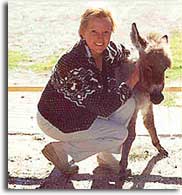 The Sanctuary is a non-profit Vermont corporation dedicated to providing farm animals, especially ones with a difficult past, with a good future and a chance at a long and healthy life. In 2001 one of the original Holsteins"Clover" passed away at the relatively old age of thirteen. Generally less than 25% of dairy cows live past the age of seven.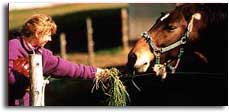 Since Molly and Emmy's arrival, the sanctuary has welcomed Yorkshire pigs Eugene and Wilbur, Holstein steers Ben and Jerry, and sheep Rosie and Hillary, many of the others have equally somber stories and were saved from sad fates by Pastore's good will. The daily management of the Sanctuary is in the capable hands of Larry Sargent, Pastore's caretaker and a life-long Vermonter. The Sanctuary's newly formed board of directors combines veterinary and non-profit expertise.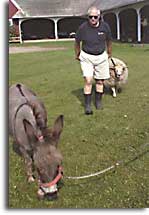 Some animals are housed in the Clock Barn, a 1912 structure that has recently been going through some major renovations. This non profit refuge is eagerly accepting donations to offset their costs.Donations are 100% tax deductible.
Says Dr. Pastore, "I have not doubt that it will be good for the farm animals we are able to sanctuary, because we've seen that already, but maybe the greater effect will be a more general respect and affection for all animals, sanctuaried or not. My personal conviction is that people feel the rightness of it… I think children especially will experience the humane treatment of these large farm animals and be enriched by feeling closer to them and their stories." And who could disagree?
inns | hotels | resorts | rentals | attractions | dining | real estate
Champlain Valley VT Resort Lodging
Burlington, Middlebury, St. Albans, the Islands of NW Vermont
North Central VT Resort Lodging
Montpelier, Barre, Randolph, Waterbury, Stowe, Mad River Valley
Northeast Kingdom VT Resort Lodging
St. Johnsbury, Newport, Barton, Lyndonville, Burke, Jay, Island Pond
South Central VT Resort Lodging
Rutland, White River Jct., Woodstock, Quechee, Brandon, Killington, Ludlow, Weston, Chester
Southern VT Resort Lodging
Bennington, Brattleboro, Manchester, Arlington, Newfane, Mt. Snow area
Dining | Real Estate | Skiing | Vacation Rentals | Inns | Hotels | Resorts
Classified Ads | Golfing | Events | Attractions | Sports | Personals
Pet Friendly Lodging | Meeting Rooms | Weddings
Products | VT Town Photos | Shopping