South Central Vermont Campgrounds
South Central VT Luxury RV Parks & Camping

Camping on Vermont's Lake Bomoseen is just one of many beautiful camping destinations here in the Southcentral region of Vermont. South Central Vermont camping sites and full-service campgrounds include RV Parks in this region. Vermont Camping season peaks from late June to late September when prime camping and RV sites can be hard to find. For best results arrange for your Vermont Camp Site in advance. Ask us about Vermont Camping or RV Parks or share campground comments.  Feature your Vermont campground or RV dealership, contact us. Safe and happy RV travels and camping from Vermont Living Magazine.
South Central Vermont Campgrounds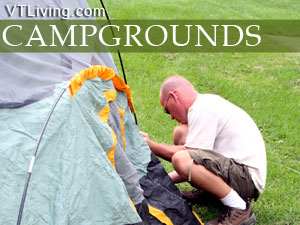 Andy's Campgrounds
1239 Route 30
Brandon, VT 05733
Ph: 802-273-2751
Caton Place Campground
East Road
Cavendish, VT 05142 
Ph: 802-226-7767
Country Village Campground
40 Route 7
Brandon, VT 05733 
Ph: 802-247-3333
Getaway Mountain & Campground
Route 5
Ascutney, VT 05030 
Ph: 802-674-2812
Hideaway Squirrel Hill Camp
53 Hideaway Road
Ludlow, VT 05149 
Ph: 802-228-8800
Missing Something? Share your comment or business review
South Central Vermont Area National Forest Campgrounds:
Green Mountain National Forest Campgrounds
U.S. Forest Service Office
North Main Street
Rutland, VT 05701 
Ph: 802-747-6700
– Rugged exposed heights and secluded hollows in 19 Recreation Areas and 6 Wilderness Areas
White Rocks National Recreation Area & Camp
South Wallingford, VT 05773
No Phone
– Expansive lands in Green Mountain National Forest interspersed with remnants of abandoned farming community and trail to White Rocks   –Primitive Camping Only.
inns | hotels | resorts | rentals | dining | real estate
Champlain Valley VT Campground / RV Lodging
Burlington, Middlebury, St. Albans, the Islands of NW Vermont
North Central VT Campground – RV Lodging
Montpelier, Barre, Randolph, Waterbury, Stowe, Mad River Valley
Northeast Kingdom VT Campground – RV Lodging
St. Johnsbury, Newport, Barton, Lyndonville, Burke, Jay, Island Pond
South Central VT Campground -RV Lodging
Rutland, White River Jct., Woodstock, Quechee, Brandon, Killington, Ludlow, Weston, Chester
Southern VT Campground -RV Lodging
Bennington, Brattleboro, Manchester, Arlington, Newfane, Mt. Snow area

Products | Visit VT Towns | Shopping