Activities
Ad Agencies
Adventure Sports
Airports
Animals
Antiques
Apple Orchards
Art Galleries
Attorneys
Attractions
Auctioneers
Automotive
B&Bs
Ballooning
Beaches
Biking
Boating
Business
Campgrounds
Canoeing
Car Rentals
Caterers
Celebrity Photos
Chamber Offices
Cheesemakers
Christmas Trees
Cinemas
Classifieds
Commercial Realty
Community
Concerts
Conferences
Covered Bridges
X-Country Skiing
Crosswords
Dining
Dog Sledding
Events
Extended Stay
Factory Tours
Fairs &Festivals
Fall Foliage
Family Vacations
Famous People
Farmstands
Farmers' Markets
Filmed in Vermont
Fishing
Flight Tracking
Fruits & Berries
Gas Prices
Golfing
Going Green
Government
Group Lodging
Health Food Stores
Hiking
History & Folklore
Home Improvement
Horses
Hotels
Industrial Parks
Inns
Jokes
Lakes
Lodging
Lottery Numbers

Made in Vermont
Mad River Valley
Maple Sugaring
Maps
Media
Meetings
Mind Body & Spirit
Museums
News
Newsletter
Newspapers
Nightclubs
Obituaries
Personals
Pet Friendly
Photo Sharing
Photo Tours
Poetry
Printers
Real Estate
Recipes
Rentals
Resorts
Rock Climbing
RV Dealers
Shopping
Skiing
Snowboarding
Snowmobiling
Snowshoeing
Sudoku
Souvenirs
Spas
Sports
State Info
Stock Report
Summer Camps
Sweepstakes
Tennis
Tourism
Towns
Transportation
Travel Info
Tree Farms
Vacation Rentals
Vermont Products
Vermonters
Water Recreation
Weather
Webhosting
Weddings
Wineries
Writing
VT REGIONS

Southern Vermont

South Central VT

North Central VT

Champlain Valley

Northeast Kingdom


Southern Vermont Ski Areas
Mount Snow, Stratton, Magic, Bromley, Haystack - Southern Vermont Area Ski Resorts
Winter vacations attract tens of thousands of people to southern Vermont every season. The skiing and snowboarding is usually best from mid December until early March, though an early snowstorm can change things in a hurry.
Stratton Mountain Resort
and
Mount Snow
on Route 100 in West Dover are the largest ski resorts in this region. Most of us associate excessive snowfall with the northernmost reaches of the Green Mountain State; however, Southern Vermont is replete with ski areas and winter resorts that offer cutting-edge technology in snowmaking and a wide variety of trails, lifts, glades, and terrain parks. Follow the links below for more information about southern
Vermont Ski Resorts
and Vermont skiing and snowboard vacations. Feature your southern Vermont vacation property in Vermont Living, please
contact us
.
---


The Manchester View, Rt. 7A, Manchester Center, VT 05255 Ph: 802-362-2739 or 800-548-4141.
Minutes to Bromley, Stratton Resort, and Magic Mountains, as well as five cross-country ski areas. Ice skating, snowshoeing, snow tubing, and snowmobiling. Fireplace and two person Jacuzzi baths. Thirty-six units, dynamic views, two-in-one bedroom suites. Check accommodations, view photos online.
www.ManchesterView.com
---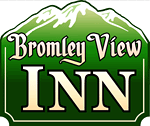 Bromley View Inn, 522 Vermont Rte. 30, Bondville, VT 05340 Ph: 802-297-1459.
Bromley View Inn is located between Manchester, Bromley Mountain Resort and Stratton Mountain Resort. Our guests will find themselves in an activity haven with six ski areas within an hour, five golf courses within a half hour, superior hiking/snowshoeing, plenty of waterways for kayaking, canoeing, and fishing; and some of Vermont's best shopping and antiquing in the towns of Manchester, Arlington, Londonderry, Weston, Peru, and Dorset.
www.bromleyviewinn.com
---
Southern Vermont Ski Areas and Ski Resorts
click on the resort name for photos, conditions and reports

Inns | Hotels | Resorts | Vacation Rentals | Dining | Entertainment | Real Estate
Southern Vermont Cross-Country Ski Areas
Vermont Ski Resorts & Ski Areas by Region
Click Vermont map on region of interest.


Champlain Valley Vermont Ski Areas
Burlington, Middlebury, Bolton Valley,
North Central Vermont Ski Areas
Montpelier, Barre, Randolph, Waterbury, Stowe, Mad River Valley
Northeast Kingdom Vermont Ski Areas
St. Johnsbury, Newport, Barton, Lyndonville, Burke, Jay, Island Pond
South Central Vermont Ski Areas
Rutland, White River Jct., Woodstock, Quechee, Ludlow, Killington
Southern Vermont Ski Areas
Bennington, Brattleboro, Stratton, Manchester, Arlington, Newfane
Back to Vermont Ski Areas Main Index | Vermont Ski Areas Association
Tell us about your Vermont Ski vacation experiences.
For Vermont ski vacation recommendations e-mail
with your specific lodging requirements.
We will respond with appropriate accommodation suggestions.

Celebrity News and Photos

Who's Moving In?

Relocation

Data